Bron:
Italiaspeed.com
Magneti Marelli to be Official Technical Partner of A1GP
13-10-2008
A1GP World Cup of Motorsport has announced that Magneti Marelli is to be the official technical partner of the series for the 2008/09 season. Under the terms of the agreement, A1GP will utilise Magneti Marelli electronic systems in many key areas of the new A1GP Powered by Ferrari cars.
Using the Magneti Marelli modular design engine and gear control system, A1 Teams will benefit from increased data logging capability, 100% real-time telemetry cover, and reliable integration with all other control units on the car. The system currently controls the gearbox, data logging and all steering wheel functions.
John Wickham, General Manager, Technical & Operations of A1GP, said, "This is an important partnership for A1GP as we enter a new era with the Powered by Ferrari cars. Reliability has been excellent during the test programme, with no problems encountered in over 7,500-kilometres of testing throughout Europe."
Roberto Dalla, Head of Magneti Marelli Motorsport Department said: "We are very happy to be part of the A1GP world. It was an interesting technical challenge, we have applied our technology to a new and different area with regards to data logging, gearbox control and steering wheel, so showing how flexible our solutions are, and what a high-level of performance they have."
A1GP WORLD CUP OF MOTORSPORT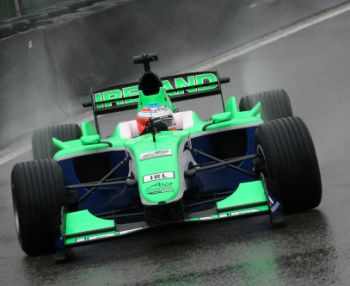 Pitting nation against nation in the World Cup of Motorsport, A1GP unites over 20 countries in a competition where human bravery, skill and excellence determine victory. Racing identical single-seat cars, the deliberately equalised technology allows countries as diverse as the USA, Lebanon, France, China and South Africa to compete on a level playing field. With three days of on-track action, an A1GP event offers a rare opportunity for fans to interact with teams and drivers. Exclusively inclusive, A1GP brings the thrill of international motorsport to billions of fans across the globe. Now preparing for its fourth season, A1GP takes in a mix of established world-famous venues plus exciting new state-of-the-art facilities and tight twisty street circuits, delivering high-speed adrenalin fuelled action at every turn.