Bron:
Italiaspeed.com
Ferrari engine testing for A1 GP
04-02-2009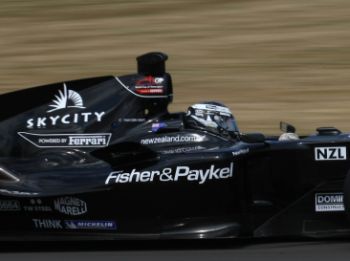 Following the A1GP race at Taupo in New Zealand, and at the request of engine supplier Ferrari, A1 Teams Ireland and New Zealand completed some additional running to try out a version of the pressurised fuel collector at high ambient temperatures. The data collected will be validated by A1GP Technology in further factory tests to produce a modification for all team cars prior to the A1GP Gauteng event in three weeks' time.
Team Principal Mark Gallagher: "We were asked to help out with the test and were happy to oblige. Naturally for reasons of fairness we could not use Adam Carroll for this test, nor carry out any performance testing of benefit to the team, but it was very useful for Niall Quinn to get some decent running in the car. It was nice as championship leaders to be asked to assist A1GP and Ferrari with this test and to help them ensure that the superb new A1GP Powered by Ferrari car continues to provide the teams with a strong, reliable package. We'll focus all our energies on the next race in Gauteng, South Africa. Kyalami is a new track for everyone in A1GP and will be another leap into the unknown."
A1 Team New Zealand also ran its car in the test, and worked with Ferrari and Magneti Marelli so they could gain a better understanding as to why a small number of cars – including the New Zealand car – were affected by problems during the Taupo event with the drivers' application of the anti-stall system. New Zealand did not have a rookie driver at the Taupo event, and therefore Jonny Reid undertook the testing.
South Africa is already gearing up for the next event, A1GP Gauteng on 20 - 22 February. As part of the build up the A1GP test car has already arrived in the province from New Zealand last week and was on display at The MPH Show, which also incorporates Top Gear Live, at the Coca-Cola Dome in Johannesburg from January 29 to February 1.