Bron:
Italiaspeed.com
Lamborghini (Super Trofeo) Asia Series van start
29-05-2012
De nieuwe versie van de Lamborghini Super Trofeo, de Asia Series, is afgelopen weekend weer van start gegaan op het circuit van Sepang (Maleisië). Deze variant op de gewone, Europese, Super Trofeo is voor Lamborghini een mooie aanvulling. Aangezien Lamborghini het in Azië heel goed doet, is het een mooie vorm van reclame. Race 1 van deze eerste race van het eerste seizoen werd gewonnen door het team van Liu / Rizzo (#37), China en als tweede het team Wiser (#66), China en als derde het team Charlz (#99), Singapore. Race 2 werd gewonnen door Liu / Rizzo (#37), China, gevolgd door Charlz (#99), Singapore en als derde team Wiser (#66), China:
Lamborghini's new Asia Series spun off its Super Trofeo format kicked off at the Sepang International Circuit in Malaysia at the weekend. Into its fourth year in Europe, the Lamborghini Super Trofeo in Asia will now provide a platform for gentlemen drivers, entering individually or in teams of two, to compete at the wheel of the bespoke Lamborghini Super Trofeo race car in what the sports car maker dubs one of the world's fastest one-make series. With 18 teams from China, Malaysia, Singapore, Thailand, Taiwan, Hong Kong and Japan, the opening weekend of the Asia Series saw the brand's race cars showcased in two competitive races.
Crowds of spectators watched the Super Trofeo teams follow the format of a 50-minute practice session providing precious time to get accustomed to the track, before a 35-minute qualifying session and two official races each 50 minutes long. A compulsory driver change window of ten minutes in both races adds to the excitement.
This year's Asia Series complements the European Lamborghini Blancpain SuperTrofeo series, now in its fourth season. In Asia, the series visits some of Asia's highest-standard international circuits including Sepang, Fuji, Ordos, Zhuhai, Penbay and concluding in Shanghai for November's grand finale.
"The Super Trofeo Asia Series is an important milestone for our company," said Lamborghini President and CEO Stephan Winkelmann. "Lamborghini is already well-known in the region for its iconic supercars, and now we are also sharing our passion for motorsports with other enthusiasts across Asia. We are also delighted to be joined by such an international group of gentleman drivers, and we look forward to following them throughout the series as they experience Lamborghini in its most extreme form."
Mr. Delamuraz, Vice President and Head of Marketing of Blancpain, the series' sponsor, said: "Over the past several years, Blancpain has been increasing its presence in Asia. We are really excited to launch a Super Trofeo series in Asia this year. This new concept, similar to the Super Trofeo in Europe, will allow passionate motorsport lovers to race on Asia's most prestigious racetracks! For Blancpain and Lamborghini, this project is the result of mature reflection, based on a three-year partnership in Europe as well as on our knowledge of our local client's expectations."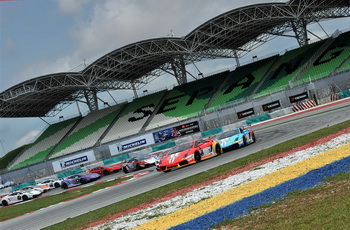 The series' debut in Sepang was held alongside the Malaysian Super Series. Other major race events will partner the Lamborghini Blancpain Super Trofeo in subsequent race meetings such as Formula Nippon in Japan, the Audi Pandelta Race in Zhuhai, and culminating in a big season finale in Shanghai in November with a Group final: Lamborghini Blancpain Super Trofeo, Audi R8 LMS Cup, VW Scirocco Cup Asia and Porsche Cup Asia. A lightweight version of the road-going Gallardo LP 560-4, the Super Trofeo race car comes complete with a reworked chassis and a power output of 419 kW from its V10 engine. The race car features Lamborghini's permanent four-wheel drive and comes equipped with leading safety features, including an FIA FT-3 fuel cell, a full roll cage, a new Brembo Racing brake system and compatibility with HANS safety devices. The Super Trofeo's bodyshell is not only light but also safe. Boasting torsional stiffness, it aims to maintain outstanding handling. Carbon-fibre composite feature in the bodyshell's construction, forming the front skirt, splitter, rear bonnet, front compartment cover, side skirts, diffuser, rear skirt and large rear wing. The rear wing can also be repositioned to suit the requirements of different race tracks and environments, while all the race car's windscreens and windows are made from Makrolon lightweight hi-tech polycarbonate. Complementing its carbon-fibre black Alcantara panels, the Super Trofeo comes equipped with one low-mounted racing bucket seat, produced in light and stiff Kevlar carbon-fibre composite, providing perfect ergonomic support to the driver, who is then secured into position by a six-point racing harness.
Results - Round 1, Sepang

Race 1
1. Liu / Rizzo (#37), China
2. Wiser (#66), China
3. Charlz (#99), Singapore
4. Shigeru / Hideto (#10), Japan
5. Chan / Tse (#88), Hong Kong
6. Chou / Chen (#6), China
7. Chen (#3), China
8. Choi / Lau (#8), Hong Kong
9. Henry / Se (#22), China
10. Motoaki (#12), Japan
11. Cheng / Lok (#2), China
12. Wong / Hui (#23), Thailand
13. Chao / Lin (#38), Taiwan
14. Kai / Dong (#7), China
15. Ramli (#9), Malaysia
16. Lu (#36), Taiwan
17. Yeo (#11), China
18. Lu (#1), China
Race 2
1. Liu / Rizzo (#37), China
2. Charlz (#99), Singapore
3. Wiser (#66), China
4. Chan / Tse (#88), Hong Kong
5. Shigeru / Hideto (#10), Japan
6. Xu / Zhang (#7), China
7. Chou / Chen (#6), China
8. Chen (#3), China
9. Motoaki (#12), Japan
10. Wong / Hui (#24), Thailand
11. Chao / Lin (#38), Taiwan
12. Henry / Se (#22), China
13. Cheng / Lok (#2), China
14. Choi / Lau (#8), Hong Kong
15. Lu (#36), Taiwan
16. Yeo (#11), China
17. Ramli (#9), Malaysia
18. Lu (#1), China