Bron:
Italiaspeed.com
Ferrari in Grand-Am punten door dubbel succes
21-05-2012
Door een dubbel succes komt Ferrari eindelijk in de punten van het Grand-Am kampioenschap. De zeges op Homestead-Miami Speedway en New Jersey Motorsports Park afgelopen weekend zorgden ervoor dat Ferrari nu boven de Porsches staat in het kampioenschap:
Ferrari is back in Grand-Am, and the sports car industry is taking notice. Joining the Rolex Series in 2012 with a model built specifically for Grand-Am competition – the new Ferrari 458 Italia Grand Am – Ferrari, after a less than competitive debut showing in the Rolex 24 at Daytona, has now won two consecutive races to take the lead in the GT class championship standings. Back-to-back victories at Homestead-Miami Speedway and New Jersey Motorsports Park put Ferrari atop the Rolex Series GT manufacturer's championship with 4 rounds completed. The latter victory broke a tie to move the Italian automobile manufacturer into the championship lead over Porsche, 128-123, with Mazda third at 117. This news brought a smile to racing legend and former Ferrari factory driver Mario Andretti. "Hearing about success for Ferrari always makes me happy," said Andretti, whose laurels include a victory in the 1972 Rolex 24 At Daytona. "Ferrari is so magical … the name resonates around the world. When Ferrari scores, I think everybody is happy. I certainly have a soft spot for them. I love when Ferrari is successful."
Ferrari has enjoyed past success in Grand-Am, winning the Rolex Series GT manufacturer's championship in 2003. Ferrari driver Cort Wagner shared back-to-back GT titles, co-driving with Bill Auberlen in 2002 and Brent Martini in 2003.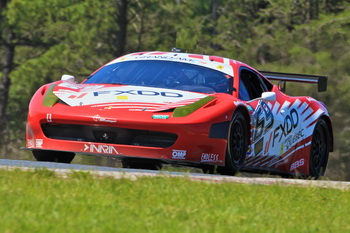 "To have the Ferrari brand successful again in the Rolex Series has both present and future implications," said Mark Raffauf, Grand-Am's managing director of racing operations. "Ferrari racing – and winning – shines a spotlight on the Rolex Series both in North America and Europe. It helps the current competitive environment, and it bodes well for the environment in coming years. "Right now, it's really nice to see how competitive GT has become with the mix of our traditional cars as well as the inclusion of the new European cars such as Ferrari. GT racing these days is spectacular in Grand-Am."
Jeff Segal and Emil Assentato of AIM Autosport Team FXDD won their second straight GT race in Sunday's Global Barter 250 presented by Susan G. Komen for the Cure at New Jersey, co-driving the No. 69 Ferrari. The pair leads Magnus Racing's Andy Lally and John Potter by eight points in the driver standings, 125-117 – the same margin for AIM over Magnus in the GT team championship. "It's been truly gratifying to be part of the whole experience since we started with Ferrari," Segal said. "Seeing everything come together as quickly as it has – and as well as it has – is just incredible. There are many people in Italy who have worked hard to make this project a reality." Segal, whose family once owned a Ferrari dealership in Philadelphia, became the youngest winner in the Grand-Am sanctioned Ferrari Challenge series when he won at the Homestead-Miami Speedway in 2003 at the age of 17.
"I've been linked with the Ferrari brand since I was a kid," Segal said. "Ferrari is a company with a huge international standing and huge brand awareness. Everyone around the world knows who and what Ferrari is. But as a company, it's quite small. It's really a family feel."