Bron:
Italiaspeed.com
Lithouwse Alfa Romeo club in 1000 km race
06-08-2011
De Lithouwse Alfa Romeo club (Alfa Romeo Klubas) deed mee aan de Omnitel 1000 Km race en had een Alfa 155 en een Alfa GT meegebracht. Zij waren twee van de 44 auto's op de baan. Jammer genoeg kregen beide wagens problemen en vielen ze uit. De Omnitel 1000 Km race in Palanga, werd dit jaar voor de 12e keer gehouden en teams uit heel Europa en het Verenigd Koninkrijk doen er altijd aan mee en wordt als een van de meest prestigieuze races van de Baltische staten beschouwd. In tegenstelling tot zo'n beetje de gehele autosport, speelt sponsoring bij het prepareren van de wagens hier een ondergeschikte rol. De teams prepareren hun wagens zelf en de 3,2 liter V6 motoren worden eigenhandig tot 320 pk opgekieteld, terwijl beide Alfa's ongeveer 1150 kg wegen. Naast deze Alfa's deden ook een aantal GT auto's mee, waaronder een Ferrari F430 Challenge, Lexus IS, een Spyker C8 en een Dodge Viper mee. De Nederlandse Spyker C8 Laviolette GT2,van het Snoras team, won uiteindelijk de race:
Alfa Romeo Klubas (Lithuanian Alfa Romeo Club) expanded its racing stable to two cars for the Omnitel 1000 Km race, bringing in a specially prepared Alfa GT Coupé which was lined up alongside its regular Alfa 155 on the 44 car grid for green light of the prestigious touring car endurance race.
In the end technical problems forced both these eye-catching cars, the GT Coupé 'Diavolo Rosso' (which had started from 19th on the grid) and the 155 'Zazas Edition' (having qualified in 37th place), to retire much earlier than expected from the 334 lap race which this year - its 12th edition - lasted for 9 hours and 38 minutes.
However the new stunning 'Diavolo Rosso' managed to haul itself up the running order and get in amongst the ten quickest cars of all the 44 starters which participated in the race. This not only reveals good prospects in the future races - said the Alfa Romeo Klubas afterwards - but, what is more important, gives smiles and optimism to the team. The Omnitel 1000 km, held in Palanga, Lithuania, is considered the most prestigious race in the Baltic States and each year attracts participants, this team teams travelled from Holland, Belgium the UK and Russia to take part. This year the Alfa Romeo Klubas participated in the 1000 km race fourth time was one of only two teams representing the Italian brand in the event. Irrespective of the results achieved, the beautiful club cars, immaculately finished in dazzling Alfa Romeo racing colours, were amongst the most admired by the spectators and were the star turns in the race as they proudly flew the Alfa Romeo banner aloft.
Sponsorship in fact constituted only minor part in the development of these two dazzling racing cars as devoted club members tuned the glorious 3.2-lire V6 litre engines to deliver around 320 hp, while both weighed in, almost identically, at 1150 kg.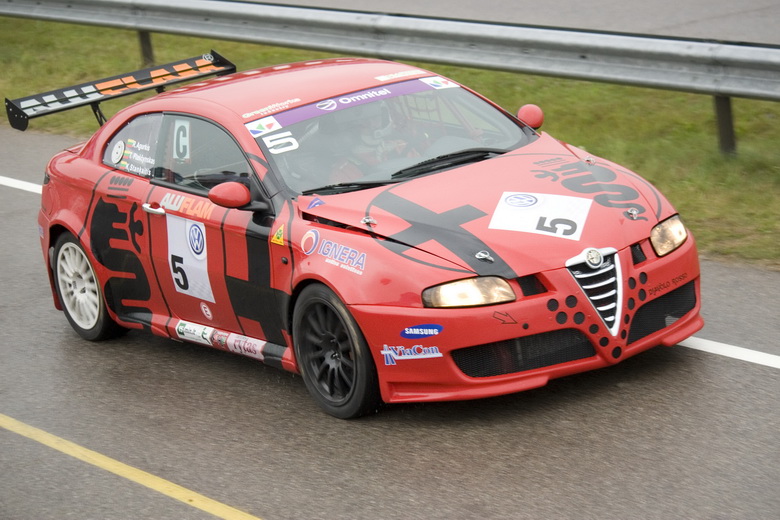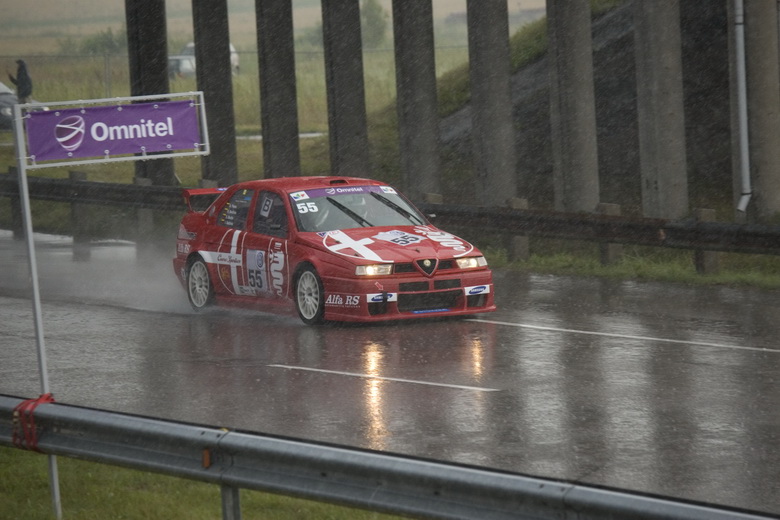 The tough and demanding race was won by the the Neiluva/Martin Sport-entered Honda Type R which completed the 1000 km distance in a little under 10 hours. Making it a Latvian 1-2 was the second placed Rimo BMW 330D, which had started from the front row of the grid; it came home two laps adrift. The final podium spot went to the Dutch-based Snoras Spyker Squadron's Spyker C8 Laviolette GT2, the GT car had swept to pole position but was forced to battle back into race contention right from the first hour and eventually the Dutch supercar claimed the final podium position, albeit 5 laps down. The Spyker C8 was one of a handful of GT cars joining the massed touring car ranks in the race, other sports cars taking part included a Ferrari F430 Challenge, Lexus IS and Dodge Viper.