Bron:
Italiaspeed.com
Formula Abarth ook naar China
18-03-2011
In 2009 startte Fiat met de Formula Abarth, die jonge coureurs gaf een carrière op te bouwen in de racerij. Nu neemt men het concept mee naar China, waar dit concept Formula Pilota China gedoopt wordt. Er zullen zes dubbele races gereden worden, met een te behalen score van maximaal 12 punten. Voor Aziatische begrippen wordt het een geheel nieuw concept, omdat de rijders met relatief ingewikkelde auto's, waarbij de beginnende coureurs ook al geleerd wordt hoe de auto het beste afgesteld kan worden, iets wat normaal gesproken alleen in de hogere Formule 3 klasse geleerd wordt. Ondanks de beperkingen van de Formula Abarth wagens, zijn ze door de techniek toch vergelijkbaar met een Formule 3 racer. De motor is hetzelfde als die in de nieuwe Abarths voor op de gewone weg zit, nl. de 1.4 Turbo motor met 180 pk. Bij een laag gewicht als zo'n racer zonder interieur, gaat dat natuurlijk als de brandweer:
Formula Abarth, the new series aimed squarely at young drivers making their first step onto the single-seater racing "ladder" will be expanding into China this year, taking the Scorpion brand's concept and Fiat Powertrain (FPT) – which supplies the engines – into a whole new territory. Formula Abarth started off with a very well subscribed Italian series, Formula ACI CSAI Abarth, where youngsters can compete from the age of 16 onwards once they have passed an ACI/CSAI racing licence course, which is now being joined by a pan-European championship. Now that already successful package is being expanded into China. To be known as Formula Pilota China it will leverage the single-seater cars supplied by Tatuus and the engines and technology of FPT and Abarth as well as the Scorpion's "spirit" of building a successful platform for youngsters to further develop their single-seater careers.
Formula Pilota China will consist of six events this year, each with a double header format making up twelve points scoring rounds, and it will visit the circuits of Shanghai, home of the Chinese F1 Grand Prix, Ordos and Zhuhai in China as well as another F1 track in the shape of Sepang in Malaysia. Formula Pilota China will aim to not only provide a cost effective series concerning developing driver talents, but also in terms of marketing. The organisers are currently working on some final touches on securing important deals that will push the most talented of the young "pilota" onto higher platforms while important links with the European motor sports will be announced soon.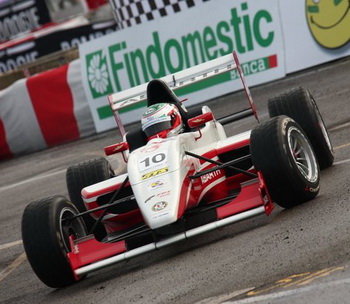 The series' plans bring a new concept to the Asian motorsport by offering a "state of art" formula racing car at an affordable price. Despite not achieving the brake horse power of a Formula 3 car or its aerodynamic sophistication level, the Italian Formula ACI CSAI Abarth Championship has already taught young drivers a lot in terms of setting a car up and in preparing them for the leap to higher categories armed with a stronger technical background. Teams have also been able to study and devise the most effective solutions by using their own initiative. On the aerodynamics side down-forces are quite close to those of a Formula 3 machine while every car has 10/12 gear ratios, meaning drivers have to experiment with several solutions without limiting themselves to the choice of long-medium-short ratios that is normally employed in these entry level formulae. Raffaele Giammaria, the "instructor" for the Italian Formula ACI CSAI Abarth says: "The single seater is very good from a technical viewpoint since it is based on the Formula Renault 2.0 single seater, with technical evolutions that in the last years distinguished the Tatuus. From a driving viewpoint is very similar to a Formula 3 [car]. The engine is fairly difficult to use, since it is derived from the 500 Abarth and has 180 HP. Being a turbo engine it has a sharp supply from 4,500 rpm on. All these aspects make the Formula Abarth a tough car to be driven but certainly very safe and preparatory for drivers coming from kart that are at their debut on single seaters." The organisers have reported that many teams and drivers have already shown interest and a minimum of 16 cars will be on the grid for the inaugural race which is set to kick off on June 26 at the Sepang International Circuit (MSS). That race will be followed by a second trip to a grand prix circuit as the series moves on to the Shanghai International Circuit (Ferrari Festival) on July 24. Then it will be back to Shanghai on August 21 for a second round at that track before the season reaches a pitch with two events in September, at the Ordos International Circuit (CTCC) on September 4 and then at the Zhuhai International Circuit (Pan Delta Super Racing Festival) on September 18. The inaugural Formula Pilota China will conclude on November 06 with a round at Guangdong International Circuit (CTCC).