Bron:
Italiaspeed.com
Fiat's nieuwe "Racing Festival" van start
03-06-2010
Van de nieuwe race evenementen dit jaar, is er al èèn van start gegaan afgelopen weekend, namelijk Fiat's "Racing Festival", bedacht door Ferrari coureur Felipe Massa. Het festival, hoofdzakelijk bestaande uit de Trofeo Linea en de Fórmula Future Fiat, is bedoeld om nieuw talent de kans te geven een carrière in de autosport te beginnen. Afgelopen weekend was de vuurdoop voor dit evenement in Rio de Janeiro, op het Autódromo de Jacarepaguá. In de Trofeo Linea kwamen Popó Bueno en Ulisses Silva als winnars uit de bus van de beide races. Bueono won de eerste race en Silva won de tweede race, ondanks dat hij niet de snelste auto had, maar zijn kennis van het circuit en de omgekeerde startvolgorde in race 2, maakten de overwinning mogelijk.
In de Fórmula Future Fiat was het Francisco Alfaya die zich de allereerste winnar van deze klasse mocht noemen:
One of the most exciting new racing programmes to be launched this year got underway last weekend in Brazil as the Fiat-focused "Racing Festival" kicked off in some style at the Autódromo de Jacarepaguá in Rio de Janeiro. The series' two main categories, Trofeo Linea and Fórmula Future Fiat, provided exciting racing and many thrills and spills as the new cars proved well balanced and thus allowed pilots to show off their skills. The idea of the Racing Festival is the brainchild of Ferrari F1 driver Felipe Massa, supported by Fiat Automóveis. Also involved are Banco Santander, Shell, Pirelli, FPT Powertrain Technologies, Magneti Marelli and Rodas Scorro, while the series is organised by RM Racing Events.
In the exciting new Trofeo Linea, a one-make series focused around a full racing version of the Fiat Linea sedan, drivers Popó Bueno and Ulisses Silva emerged with a win apiece from the double-header format, the races held under a blazing hot sky at the magical Jacarepaguá circuit. However it was a Curitiba-based driver, André Bragantini, who takes up the points lead of the championship after the first round thanks to two second places. In race one Bueno's win was only assured in the final laps after pole sitter and then race leader, Serafin Jr, went off the track after suffering a left rear puncture. Ricardo Maurício then lost second place due to "unsporting behaviour". Later in the programme, Thiago Camilo, after an incident with Cacá Bueno, also received a similar punishment, docked 20 seconds. Bragantini wound up with second place, just under two seconds off Bueno at the flag, while the final podium step in the first-ever Trofeo Linea encounter was claimed by Antonio Jorge Neto, he was a further second back.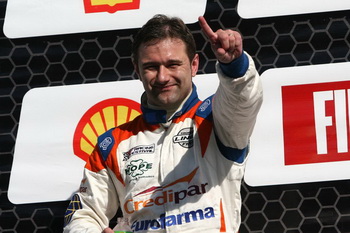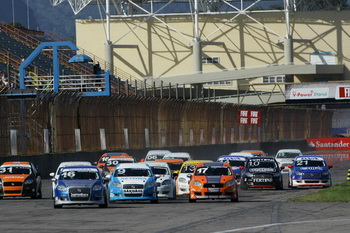 The second and final race of the weekend in the Trofeo Linea championship was even more hectic. With the top-eight finishers from race one reversed on the grid for race two, Silva, who finished in eighth place in the opening encounter was promoted to pole position for the final race. Despite coming under intense pressure, firstly from Giuliano Losacco and then in the closing stages from José Córdova and Bragantini, Silva, who was the youngest driver in the field at just 19 years of age, resisted all the pressure to claim his first win in the new series. The result was in doubt right until the chequered flag as the first five finishers streamed over the finish line bunched tightly together. At the flag Bragantini was clocked at just 0.193 seconds back from the winner while Feldmann, who collected third place, was less than half a second adrift. At the end of the race Serafin Jr and José Vitte collided on the pit straight with the former hitting a tyre barrier and rolling the car. The Linea came to rest with all four wheels in the air, but the driver was uninjured.
Bueno did not hide his satisfaction at his victory. "Winning here means a lot to me and I'm happy to have contributed suggestions for the birth of this category. It was a great idea of Felipe Massa's."
Silva acknowledged that the reversed grid and his intimate knowledge of the track was essential for a victory that even he considered unlikely. "I really was not expecting a win on Sunday, but of course it gives me great satisfaction to get ahead of experienced drivers with talent. It was not easy because my car was not the fastest on the grid, but here is my home, and that helped a lot." Bragantini left Jacarepaguá at the top of the points standings, and he was quick to praise the work of his team, Full Time. "They did a great job and gave me a very good car in both races. The Trofeo Linea has cars that get very close and racing is always interesting. When I saw that it was not possible to overcome Ulisses, knowing he was protecting the position I decided to use the same tactic and secure second place," he explained. Bragantini has 26 championship points after the first round and behind him in second place, tied on 20 points each, comes Jorge Neto, who took a strong third place in race one, and race one winner, Bueno. Ulisses is fourth on 18 points. Alceu Feldmann, an experienced pilot who races in Brazilian Stock Cars and the Brazilian GT3 Championship, was a star addition to the grid. Thanks to the 20-second time penalty handed out to Camilo, the pilot from Curitiba secured the final spot on the podium. Feldmann said the two races were quite enough for him to form an opinion about the brand new Trofeo Linea compared to the Stock Cars he usually races. "The cars are more enjoyable to drive, are not so hot, and the category will be successful," he enthused.
Meanwhile in the Fórmula Future Fiat, Francisco Alfaya became the first driver to collect a win this single-seater category with racing engines supplied by Fiat Powertrain Technologies, which has as its main prize a place in the youth development program that has recently been initiated by Scuderia Ferrari, the "Ferrari Driver Academy". He won race one with an advantage of just under a second over Nicolas Costa with João Jardim two tenths further back in third. Alfaya becomes the joint championship leader after the first round, tied with Jardim on 24 points. Jardim gets to share the top spot thanks to his consistency: he was on the podium in both races with a second and third place finish. Alfaya has the advantage though on a tie-break thanks to his win. Just one point behind these two comes Roberto Curia Jr in third place, the winner of race two, while Costa, the runner-up in the first race, is fourth on 20 points.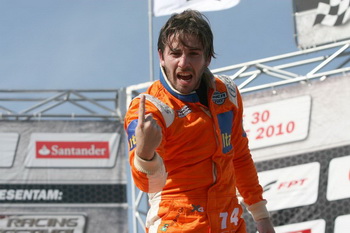 Trofeo Linea:

Results, Race 1:
1) Popó Bueno, 26min49.657s
2) André Bragantini, + 1.987s
3) Antonio Jorge Neto, + 2.798s
Results, Race 2:
1) Ulisses Silva, 27min05.016s
2) André Bragantini, + 0.193s
3) Alceu Feldmann, + 0.446s
Championship standings (after 1 round and 2 races):
1 ) André Bragantini - 26 points
2 ) Antonio Jorge Neto and Popó Bueno - 20
4 ) Ulisses Silva - 18
5 ) José Cordova - 14
6 ) Alceu Feldmann - 12
7 ) José Vitte - 8
8 ) Cacá Bueno and Leonardo Nienkotter - 6
10 ) Giuliano Losacco - 5
11 ) Ricardo Maurício - 2
12 ) Cesare Marucci - 1
Fórmula Future Fiat:

Results, Race 1:
1) Francisco Alfaya, 25min51.328s
2) Nicolas Costa, + 0.982s
3) João Jardim, + 1.265s
Results, Race 2:
1) Roberto Curia Jr., 26min04.531s
2) João Jardim, + 2.275s
3) Jonathan Louis, + 7.980s
Championship standings (after 1 round and 2 races):
1 ) Francisco Alfaya and João Jardim - 24 points
3 ) Roberto Curia Jr. - 23
4 ) Nicolas Costa – 20
5 ) Johilton Pavlak – 18
6 ) Jonathan Louis - 14
7 ) Vinicius Alvarenga – 6
8 ) Felipes Apezzatto – 5
9 ) Rafael Azrak and Felipe Granzotto - 2