Bron:
Italiaspeed.com
Trofeo Maserati Gran Turismo MC van start
30-05-2010
Afgelopen weekend was de eerste ronde van de Trofeo Maserati Gran Turismo MC. Er verschenen eenentwintig auto's aan de start: veertien Maserati's GranTurismo MC Trofeo van Maserati Corse en zeven MC GT4's van privé-teams. Stefano Rota eindigde als tweede, maar omdat winnaar Ivan Capelli Maserati VIP gastrijder was, werd hij toch eerste:
Stefano Rota sits at the top of the standings now that the first ever round of the brand-new Trofeo Maserati GranTurismo MC single-make series is over, thanks to a victory and a fourth place in the two races held in Monza last weekend. Twenty-one drivers were lined up at the starting line, at the wheel of fourteen GranTurismo MC Trofeo (run by Maserati Corse) and seven GranTurismo MC GT4, backed by private teams who are competing in a special classification. Eight different countries were represented. The winner of race 1, Rota, actually reached the finish line second, behind Ivan Capelli, who however did not get points as he was participating in the race as a Maserati VIP-guest. Sharing the podium with Rota were Pietro Zumerle and Marco Petrini, who took advantage of Paolo Necchi's mishap a few laps prior to the end of the race due to a flat tyre.
Qualifying 1
The twenty minute session to decide the grid order for race 1 witnessed a close fight between Rota and Villa. The two swapped the lead before Ivan Capelli stopped the clock at 2'00"775 just under nine minutes from the end. With this performance the Milanese driver edged out Sergio Rota, from Bergamo, by four, decisive, thousandths. In third placed Manuel Villa, whose consistent driving saw him post 2'01"392, a time good enough to see him outdo Paolo Necchi. Necchi ended the session 669 thousandths off pole. Nicolò Piancastrelli pulled it out of the bag as the session came to an end to post 2'01"985. He clocked his quickest lap just as the chequered flag was about to be shown. The series' youngest driver heads Zumerle (2'02"080) and Stefano Gai, whose 2'02"146 was the fastest of the GranTurismo MC GT4 drivers. Next up came Alessandro Pier Guidi. The new Trofeo Maserati rules award a point to the driver who takes pole. As Ivan Capelli is appearing as a guest, he cannot win championship points and so the first point in the series went to Sergio Rota.
Qualifying 2
The race 2 qualifying session again saw Ivan Capelli outpace the pack. The Milanese driver posted 2'00"208, holding off Peter Sundberg by just a tenth (2'00"349). As in the first session, Capelli needed only six laps to earn pole while the Swedish drove nine. It is an all-Italian second row after another personal battle between Sergio Rota (2'00"567) and Manuel Villa, just four thousandths down. Enrico Moncada drove fantastically well to take fifth and close out the twenty minute session with 2'00"703. This time was good enough to beat Paolo Necchi (2'01"551), who was flatter than in session 1. Two other drivers who did well were the Venezualan Gaetano Ardagna Perez (2'01"554) and Francesco Maggi (2'01"712).
Stefano Gai repeated his exploits in session 1 of qualifying and placed his Trofeo GranTurismo GT4 in ninth overall, just 1"716 off Capelli. In tenth came Roberto Sperati (2'01"985) who finished a place higher than the 2003 Trofeo champion, Emanuele Smurra, who didn't ever get to grips with his car. Aside from Gai, the GT4 class saw Jonathan Sicart (2'03"524) -second and thirteenth overall – and Ronnie Kessel (2'03"987) - third and fourteenth in all - do well. Bellin and Doeblin also deserve a mention for their drives. As in Qualifying 1, Capelli's top spot did not carry any championship points and so Sundberg took the point on offer.
Race 1
The Trofeo Maserati kicked off with a win for Ivan Capelli. The Milanese driver, here as a guest, took race 1 of Maserati's European series in style. Capelli first made sure of pole position and then secured the race itself, holding off Sergio Rota and Pietro Zumerle. The race was exciting from turn 1: Rota surprised everyone with his early dash of pace and he pulled up to Capelli who found himself meat in the sandwich as Necchi had done the same on the other side. Of the three, it was Necchi who left it just too late to step on the brakes. His risk taking didn't pay off and the Brianzolo driver overshot the chicane and was forced into the run off area before he could mount a comeback on the front two. The battle between Capelli and Rota was a close one and the ex-Formula 1 driver did not waste any time in overtaking his opponent from Bergamo. Obviously, the excitement did not end here as Rota retook the lead at the first chicane. If he thought he could build a lead, he was mistaken: Capelli paid Rota back at Ascari and, from that point on, was uncatchable.
The thrills and spills were also seen further down the pack. Piancastelli and Zumerle were especially aggressive with Ascari again the setting, this time as the category's youngest driver tried an impossible overtaking move. When it seemed that a clash was inevitable, he moved his GranTurismo MC Trofeo onto the grass but lost control and spun, ending right in the racing line.
Up front, Capelli was pushing on and set his best lap of 1'59"483. While he was doing this, Manuel Villa was making a majestic comeback (helped by the new tyres he had mounted and for which he had been relegated to the third last position on the grid). The HappyRacer driver went head-to-head with La Mazza at the first chicane but he too ended up in a spin. Over in GT4, Stefano Gai was leading with the talented Alessandro Pier Guidi trying to make up ground. There was also a lot of sparring going on between Kutemann, Bellin and Doeblin. On lap nine, Villa moved into Ardagna Perez's slipstream and into a prime overtaking position. As he exited Ascari better than his rival, he laid the plans for his attack at the Parabolica and pulled it off. The Venezuelan tried to hit back by accelerating harder at the Parabolica. The Italian defended the inside but overdid it by riding the kerb too high in the first left-hander. The move unsettled the car and Villa ended up in the gravel that borders the return curve. This was easy pickings for Ardagna Perez and he wasted no time in moving to the right while Villa was desperately pumping the gas with the car well off the racing line. A spin was inevitable, as was contact with the Venezuelan. Both cars spun and though Villa was able to continue with a damaged front end, Perez's race was over with his front-right suspension shot. Lap ten saw Capelli leading by five seconds over Rota with Necchi another six seconds back. Behind the front three were Pietro Zumerle, Marco Petrini and Francesco Maggi (who had started from tenth). The next two drivers in the pack were from GT4: Gai and Sicart. The Frenchman was another driver to spin off at the first chicane after overshooting Ascari and running into the sand. Eighth place was being contested by La Mazza and Goldstein. Goldstein managed to edge past the Italian but nudged him into a spin. La Mazza was hit with an immediate drive-through which took place on lap 14. While all this was going on, Capelli was leading by 4"4 over Rota, and was 7"0 up on Necchi, 11"9 on Zumerle, 20"8 on Maggi and 21"0 on Petrini.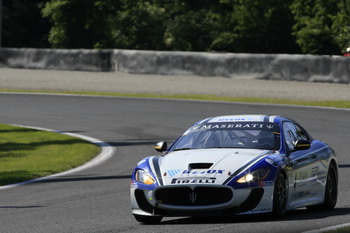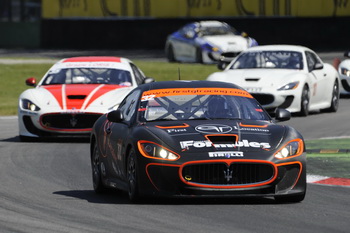 Race 2
It was a thrilling finish in the second Trofeo Maserati race. Things were so close that it took a photo-finish to separate Peter Sundberg and Manuel Villa, with Sundberg ultimately getting the nod by 95 thousandths. It was a historic win as it was the first time that a Swedish driver had triumphed in a Maserati single-make race. With the track surface temperature of 43°C (and an air temperature of 25°C), the start was a hot one. Things heated up even more at the first chicane when Sundberg, Rota and Capelli all tried to squeeze through together. With tyres smoking, all three headed into the turn only for Sundberg to stray offline and miss his turning point. His lead disappeared. Heading into Roggia, Ivan Capelli was in top spot, tracked by Sergio Rota and Peter Sundberg. Behind them came Villa, Moncada and Maggi. Sundberg was pressing Rota hard but all three front runners were struggling to pull away from the pack as they had done in race 1 because of their worn tyres. Manuel Villa proved this by sweeping past Sundberg and then attacking Rota. This race was now bubbling away nicely: Necchi and Smurra were well into the personal duel that would last for the whole race while Sperati was in all-out attack mode and overtook Smurra going into Ascari. Up front, feeling the heat from Villa, Rota upped the pace and clocked a fastest lap of 1'59"411 (the weekend's best). On lap six Rota laid the foundations for the decisive move on Capelli and duly effected it at Roggia. Even though he had lost first place, the ex-Formula 1 driver moved into Rota's slipstream. He was close behind and when his front wheels locked at the Parabolica, he clipped Rota's rear end, sending him spinning into the gravel. Rota fought his way back into fifth but Capelli's race was over. The incident had affected the race order with Villa now leading from Sundberg, Moncada and Maggi. Another dispute that enlivened things was between Moncada and Maggi with the latter getting the better of things going into Ascari. Back down the field, Ronnie Kessel had spun at Roggia but held onto his third place in GT4, a category led by Gai with Sicart tucked into second. A fiery Sperati attacked and overtook Ardagna Perez but the Venezuelan tried to strike back at the Parabolica. Things didn't go as planned and he ran off the track and can count himself lucky not to have hit the barrier.
With all this going on, Sergio Rota was keeping his head down to produce a series of quick laps to take on Moncada for fourth. Private spats were also sparking off elsewhere on the track with Emanuele Smurra and Paolo Necchi swapping places for fun. Still, all the attention was on Sundberg and Villa as they were separated by just four tenths. The Swede made a move on lap fifteen and overtook Villa on the outside at the Curva Grande. He tried to pull away but misjudged Lesmo and opened the door for Villa to again take the lead. Sundberg was having none of it and snatched top spot with a fine move at Ascari. The race order was all-new in GT4 too. Gai was having transmission trouble and was jumping two gears. This problem proved to be short-lived but it allowed Sicart to overtake. Once he was back in the groove, though, Gai quickly retook the lead at Ascari. Once past Moncada, Rota did all he could to catch Maggi (Maggi had made the most of the battle between Moncada and Rota to build up a decent gap). Villa was another driver turning the screw and Sundberg soon saw him looming in the rear view mirror. As the last lap begun, there were still a few championship scores to be settled. Villa was all over the back of Sundberg and almost snuck past at the Parabolica. The two shot out of the circuit's most famous curve side by side but the Swede edged it by just 95 thousandths. Maggi secured his third place by preventing a brilliant Rota from completing his comeback with a spot on the podium. In GT4, Gai took a deserved win and held off an efficient Sicart. Ronnie Kessel dedicated his third place to his father, Loris Kessel, as the curtain fell on a day of gripping racing.