Bron:
Italiaspeed.com
Trofeo 500 Abarth begonnen: helft van de teams valt uit
26-04-2010
De 1000 Miglia rally was ook direct de start van het Trofeo 500 Abarth seizoen. Zes teams deden mee in de nieuwe "Grassroot" Abarth 500 R3T, gebouwd volgens FIA reglementering. De auto wordt raceklaar verkocht aan de teams en heeft een opgevoerde turbomotor van 180 pk en kost kant en klaar €48.000,- excl. BTW. Daarvoor krijgt men een auto die zoals gezegd raceklaar is. De start van het seizoen was schijnbaar lastig, want van de zes teams kwamen er maar drie over de finish. Roberto Vescovi en co-piloot Giancarla Guzzi hadden de eer als eersten over de finish te komen:
Roberto Vescovi and co-driver Giancarla Guzzi became the first crew to take a win in the inaugural Trofeo Abarth 500 Rally-Selenia reserved for the new Abarth 500 R3T as the series kicked off on the 34th Rally 1000 Miglia at the weekend. Six crews started the event with four finishing as Abarth's latest one-make "grassroots" rally series saw the 500 Abarth R3T, developed to the FIA's new regulations, hitting the asphalt surfaces of the Brescia-based rally in anger for the first time. Six of the little one-make cars lined up for the start of the rally on Thursday evening at the spectator-crammed super special stage led out by Damiano De Filippi (entered by Provincia Grande), who was seeded at #75 on the 101-strong entry list, one place ahead of Vescovi (G.R. Motorsport) who would go on to win the tough challenge, made much more difficult as the inexperienced crews had to make correct tyre choices in changing weather conditions which included rain and fog. Next up on the start list at #77 was the Piedmontese crew Pierluigi Maurino and Cinzia Becchis entered by 011 Racing, one place ahead of their team mates, at #78, Giovanni Vergnano and Luca Beltrame. Finally at #79 was Lorenzo Bertelli and at #80 was Venetian crew Giacomo Costenaro and Christian Dinale.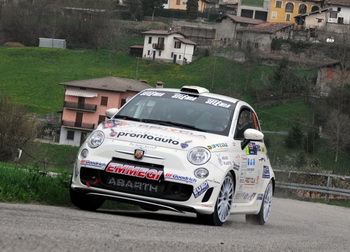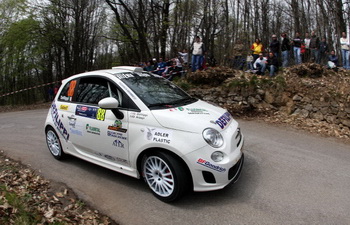 The car contesting the Trofeo Abarth 500 Rally-Selenia series this year is the brand new Abarth 500 R3T, based on the hugely successful Fiat and Abarth 500 model and now homologated for rallying in the R3T category from 1 March. It is being sold "ready to race" and also registered at a price of 48,000 euros (plus VAT). This is a genuine racing car, with a turbocharged engine that produces an output of 180 bhp, coupled up to a 6-speed sequential gearbox with a limited slip differential, dual disc clutch, racing suspension with adjustable dampers with coaxial springs to vary the ride height, adjustable camber plates, disc brakes all round (300 mm at the front and 251 mm at the rear, with bias and correcting rear hand brake with hydraulic. The 500 R3T will run on OZ 7 "x 17" wheels shod with 200/50-R17 tyres. In addition there is all the usual FIA approved safety measures, starting with the roll bar welded and built specifically for the body, all the necessary safety equipment and the seat belts fitted with 6-point anchor points. The car is being sold through a network of Abarth "racing" dealerships: Auto Alberta by Uboldi Corse (Como), Campana Onorio (Modena), Forza Service (Turin), Romeo Ferraris (Milan), Trico Motorsport (Alessandria) and Zatti Top Class (Parma).
Two of the Abarth 500 R3Ts went out early, Bertelli retired on the second stage, after dramatically leaving the track and going down a bank, while De Filippi went out after that first test of Friday morning. The remaining four crews all made it to the finish line with Vescovi (who finished 41st overall out of 55 survivors) running out an easy winner, more than 14 minutes ahead of second placed Costenaro, who was 49th on the final classification. The last two runners were also well split up, Maurino, who claimed the final podium position amongst the Trofeo Abarth 500 Rally Selenia runners, was 8 minutes behind Costenaro while Vergnano, who brought up the rear of the quartet was 12 minutes adrift of Maurino; they were 50th and 53rd overall. This year's inaugural Trofeo Abarth 500 Rally Selenia consists of six rounds, all to be contested on asphalt, with four valid for the Italian Rally Championship. As well as the weekend's opening event, the Rally 1000 Miglia, the other CIR counting events comprise of: on 18-19 June, the Rally del Salento; on 3-4 September, the Rally Alpi Orientali, and on 24-25 September, the Rally Sanremo, while two more events are valid for the Trofeo Rally Asfalto: on 28-29 May the Rally Marca Trevigiana will be the next round of the series, again to be held in the Treviso region, and on 16-17 July the 500 Abarth R3T runners will contest the Rally San Martino di Castrozza.
34th Rally 1000 Miglia, Abarth Trofeo 500 Rally, Final Classification:
1. Vescovi/Guzzi in 3 hr 27'02"4; 2. Costenaro/Dinale + 14'19"3; 3. Maurino/Becchis + 22'15"0; 4. Vergnano/Beltrame + 34'03"9.
Trofeo Abarth 500 Rally (positions after 1 round):
1. Vescovi 10 points; 2. Costenaro 8; 3. Maurino 6; 4. Vergnano 5. Classifica Under 25: 1. Costenaro 10.