Bron:
Italiaspeed.com
Basso aan kop in de beginfase van de rally van Bulgarije
18-07-2009
Tijdens het begin van de rally van Bulgarije lag Basso aan kop met z'n Grande Punto Abarth. Als asfalt specialist kan hij komend weekend zijn hart ophalen op de asfaltproeven van deze editie van de rally van Bulgarije, die dit jaar voor de 4oe maal gehouden wordt en waarvan Basso in 2005 en 2007 winnaar was:
Giandomenico Basso has raced straight into a clear early lead in the 40th Rally Bulgaria which kicked off this morning as the Grande Punto Abarth driver seeks his third maximum points score of the FIA European Rally Championship (ERC) season. Fresh from his podium on the Intercontinental Rally Challenge-counting Rally Russia last weekend, the Italian Abarth factory driver has this weekend swapped the red-and-white colours of his factory Super 2000 machine to once again get behind the wheel of the private D'Ambra team's Grande Punto Abarth in which he is making sporadic appearances in the ERC this year, with the intention of collecting enough points to reclaim the trophy he won at the wheel of the Italian machine in 2006.
Basso, an asphalt specialist is competing on his favoured surface this weekend and he is already a two-time winner of the rally (in 2005 and 2007) which is going into its fortieth edition this year. The rally is well travelled around Bulgaria: from 1970 to 2001 the Rally had its headquarters in the famous Black sea resorts of Zlantni Piasatzi and Albena while in 2002 the competition was run in the central part of south Bulgaria and had a start/finish in Borovetz - on the Mountain of Rila.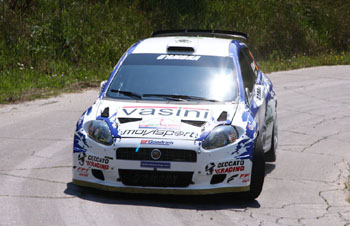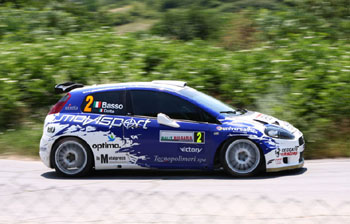 The 40th Rally Bulgaria is fifth round of the FIA European Rally Championship as well as the fourth round of the Bulgarian National Rally Championship. The rally this year has an itinerary totalling 736,86 km with split between thirteen timed special stages that make up 282,61 km, with all of this being held on asphalt. The route is very compact and selective and it passes through much beautiful Bulgarian scenery. The first special stage runs along the streets of Borovetz and this is a challenge and a test both for cars and drivers. The 2008 winner of the Rally Bulgaria was the local crew Krum Dontchev/Stoyko Valtchev in a Peugeot 207 S2000 when more than 250,000 spectators watched this top Bulgarian event. Traditionally, the rally has had very large media coverage and over 180 journalists from Bulgaria and abroad were accredited at the media centre last year. At the same time the rally received active help both from the state and local authorities.
The headquarters for this 40th edition is located in Rila hotel in Borovetz, while the start/final podium and the park ferme are all situated in front of the hotel. The charm of Borovetz can really be felt in winter time but in summer the resort offers excellent conditions for holidays too. The shakedown was held on Thursday (16 July) at noon while the ceremonial start took place last night followed by the first special stage. The rally is scheduled to have two days of running, today and tomorrow. There is one Service Park, located some 25 km east from the resort. Borovetz is not far away from to the capital city of Sofia. It is accessible by plane as Sofia airport is 60 km away and by road it is 150 km from Serbian and Greek border.
Forty two teams lined up for the ceremonial start this year last night, and while this is less than previous years the difficult global financial environment has forced many Bulgarian drivers to reconsider their agendas. However pleasingly the number of foreign drivers has markedly increased. This year fifteen foreign teams are competing on the Rally Bulgaria course. Among them are all the main contenders for the European Rally Championship title. The only missing star is the Italian Renato Travaglia.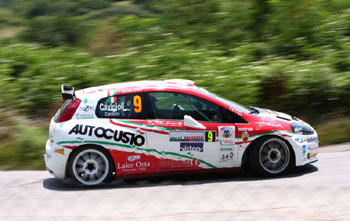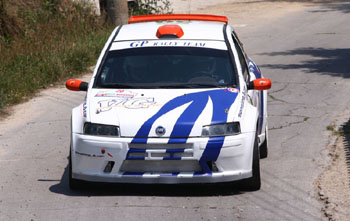 Not surprisingly, most of the attention is directed towards the strongest Bulgarian and foreign drivers. Local aces Krum Donchev, Dimitar Iliev, Iasen Popov, Ignat Isaev, Todor Slavov and Petar Gioshev will compete with well proven and known names such as Michal Solowow, Luca Betti and Corrado Fontana and rally favourite Basso. Among the European Championship entrants are Davide Di Benedetto, Antonin Tlustak, Brian Lavio, Jan Cerny and Marco Cavigioli who won the IRC 2WD Cup last year in a Fiat Punto Diesel and is out in Bulgaria in a Grande Punto Abarth run by the experienced Italian team Trico Motor Sport. Other notable entrants this year include Timo van der Marel, Daniel Wollinger, Vladica Rabrenovic, Chris Konstantinou, Miroslav Jakes, while Georgian Giorgi Kodua adds an additional exotic twist.
Basso, who has two maximum points scores from the two ERC counting events he has contested so far this year (Mille Miglia and Ypres, the latter rally which doubled up with his factory IRC programme on the calendar) quickly made clear his intention to chase a third victory in this event after he went fastest during the shakedown for the Rally Bulgaria on Thursday afternoon, posting a time of 1:45.8 minutes on the course near Dolna Bania. His compatriot Luca Betti (Peugeot 207 S2000) came in second at 1:47.7, while Pole Michal Solowow, also in a Peugeot 207 S2000, was third with 1:48.0. A total of twenty three teams took part in the shakedown, with Basso, Solowow and Swiss driver Brian Lavio (Peugeot 207 S2000) completing seven runs of the course each.
Of the Bulgarian drivers, it was only Iliev (Mitsubishi Lancer Evo 9) who completed the run in under 1:50. The BTC ADSL Rally Team driver clocked in at 1:49.7. Gioshev (Pestige, Mitsubishi Lancer Evo 9) managed 1:50.3 minutes, while last year's winner Donchev (Prista Oil Rally Team, Peugeot 207 S2000) was timed at 1:51.3. Popov (Mtel Rally Team, Mitsubishi Lancer Evo 9) finished at 1:51.7 minutes.
Basso is lying in fourth place in the ERC standings with 30 points collected from his top ERC finishes in Italy and Belgium going into this event. A win in the 40th Rally Bulgaria 2009 would immediately put him in serious contention for the title in the overall standings. The current championship leader is Solowow (Peugeot 207 S2000) with 39 points while Donchev with 33 is second. Basso kicked off on SS1 (20.41 km) with fastest time, 9.2 seconds ahead of Corrado Fontana (Peugeot 207 S2000) to move into the provisional rally lead. In fiery mood the Italian won SS2 (28.51 km) with a 7.4 second advantage in hand over Donchev, who moved into second place 25.2 seconds behind the Abarth driver as Fontana posted a lacklustre time. The shortest stage of the day, SS3 (18.12 km), saw Basso make it three fastest times in three stages with a time that was 5.3 seconds clear of Donchev to open out his advantage over the local hero to an impressive 30.5 seconds after the first loop of stages. The crews are now in the service park and Basso has nearly a minute in hand over third placed Solowow (+52.6), Fontana in fourth (+53.9) and the Mitsubishi Evo IX of Dimitar in fifth (+56.4). Cavigioli is in eleventh place (+2:00.
in his Grande Punto Abarth while Bulgarian driver Ivan Ganchev (+3:40.4) is in seventeenth overall and second in class A/6 in his Fiat Punto S1600. The crews will now make a second run over the morning's three stages before arriving at parc ferme at 18:00.