Bron:
Italiaspeed.com
Basso derde in de Rally van Rusland
11-07-2009
The Rally Russia has shown a step forward in pace for the Abarth team but both Giandomenico Basso and his young team-mate Anton Alén have had their share of problems as the event goes into its final day. Basso has suffered two punctures - one on the first night and one on Day 2 - which have blunted the challenge that his prodigious pace should have given to the Skoda pair that lead at the front. Alén, meanwhile, could not capitalise when he was promoted to third place after his team mate and Guy Wilks (Proton) had punctures and he tore a wheel off his Grande Punto Abarth on the last stage yesterday. However the battered car is being repaired and he will restart today under Superally regulations.
"It was a big route for Day 2 but at the end of it I'm now back in third," said Basso as the crews went into parc ferme last night. "Tomorrow will be long and difficult day but I hope to do it good! I made a mistake during SS9, five km from the finish – and we punctured another wheel, but we're still in the fight."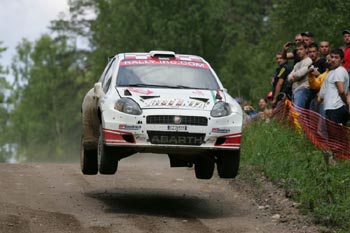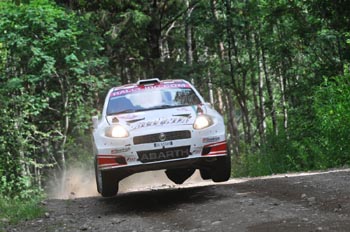 Before the start of Rally Russia, Juho Hanninen was clearly looking forward to returning to a gravel-based event and one so close to his homeland. The reason why he was looking forward to setting out from Vyborg has now become clear to see, as his Fabia S2000 has slithered through the waterlogged stages with aplomb, and has yet to be challenged for victory on any of the stages of this gruelling event. "We didn't start the last stage because of safety issue, because people are on the road," said Hanninen last night. "Apart from that, the day was nice. No problems with the car, no mistakes. A few times it was a bit close to the rocks, but we got through without any punctures. It was quite a long day, I don't need to push any more, so I'm focusing on keeping my tyres away from troubles."
To be just under a minute in arrears of Hanninen is testament to the skill of his team-mate, asphalt star Jan Kopecky. The Czech driver showed his loose surface skills with aplomb in the Azores, but this weekend wrested second place away from the fast-starting Basso on merit and has managed to keep his Fabia out of trouble when many of the other contenders have not.
Local hero and Russian national champion Aleksandr Zheludov has also shown enormous pace in his Peugeot 207 S2000, but repeatedly been caught with a misfire that has limited him to running on three cylinders. He is now in a titanic battle with Britain's Guy Wilks in the extremely impressive new Proton Satria Neo S2000 for fourth place, with Wilks on a charge after dropping back from third place after a puncture and malfunctioning car jack cost him valuable time. "I will not try to fight with the Wilks, my goal is national championship," said Zheludov. "It is a pity that the cancellation of SS10 makes it more difficult to achieve our goal, but I am pleased with the car. We've had a few problems but kept ourselves in the leading group, so that's good."
Franz Wittmann has doggedly pressed on in what is undoubtedly his best performance of the season so far, going into the final day in sixth place. The Ralliart driver from Austria was confident prior to the start of the rally, and has fulfilled that promise with style despite having a rock-beaten and weary rear differential to contend with. "It was a hard day for me - we have some punctures and some problems with hitting big stones," he said last night. "We finished, we're here, the car is in one piece – I guess I'm happy with that. But I think tomorrow we will have an almost new car and will finish this rally, hopefully!"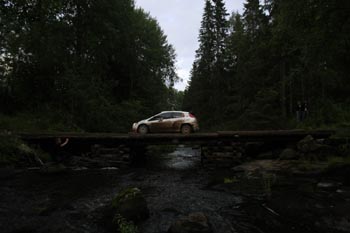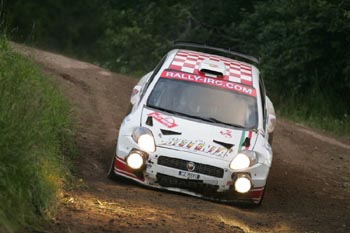 The hotly-contested battle between Wittmann and a host of Ralliart Evo IXs from the Russian national series has been joined by a spirited drive from 2WD Cup leader Kaspar Koilta, the Estonian putting in a thrilling performance throughout the event for Honda. However on the road section after the final stage of Day 2 the Civic's suspension collapsed after the beating it had taken on the rough Russian stages and he is forced to restart under Superally regulations. This puts Boris Zimin back up into seventh in his Evo IX. Zimin holds a strong advantage over the ranks of his countrymen in similar Ralliart machines. "Yesterday was more difficult, because on SS1 we had a problem with the gearbox," he said on Saturday evening. "Now it is not disturbing us, but there is some question about how the suspension will hold up. Now we are not pushing hard because the gaps are quite big, so tomorrow we will try to keep the position."
Koilta's misfortune has handed the 2WD lead to the Peugeot of Russian driver Dmitriy Voronov. "Since the start of the rally I decided to play it safe and go carefully through the stages, once it was clear to see how much effect the heavy rains had on the stages," Voronov said. "It was worrying to see Kaspar going further and further ahead, but now I have the lead and have had no punctures or broken wheels, unlike a lot of people!"