Bron:
Italiaspeed.com
Rossetti behoudt voorsprong door 3e plek in Madeira
08-08-2011
Luca Rossetti behoudt zijn voorsprong in het FIA Europese Rally Kampioenschap, door als derde algemeen te finishen in Madeira.
Door dit succes in de Rali Vinho da Madeira, blijft Rossetti ook aan kop in het EC klassement: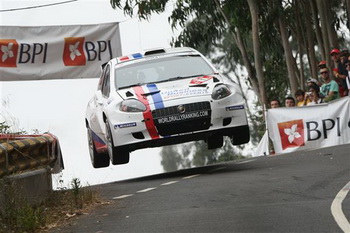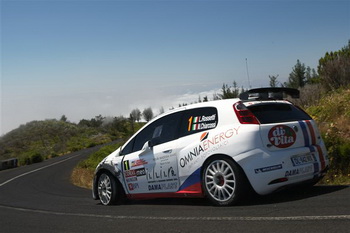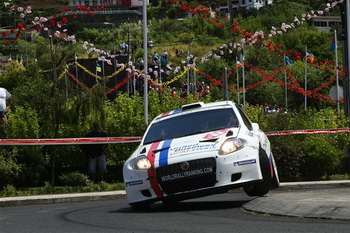 Luca Rossetti extended his FIA European Rally Championship lead to 48 points after a maximum points haul on the Rali Vinho da Madeira following a solid run to third overall which was only blighted by a puncture that stopped the Abarth driver's bid for overall victory.
However Rossetti, the reigning ERC champion who is pitching for his third crown in the prestigious series this year, didn't put a foot wrong and, despite his stage five puncture which cost him 1 minute and 35.4 seconds, he was able to finish the first full day in third place overall, comfortably clear of his closest ERC title challenger Luca Betti to collect the maximum day points on offer. After the first four tests Rossetti had been in the thick of the action, lying second overall, sandwiched by the two top Portuguese drivers: 7.9 seconds off rally leader Bruno Magalhaes and 10.9 seconds in front of Vítor Sá. That puncture was costly, it left him third, 1 minute and 43 seconds off Magalhaes. After SS11, at the end of Leg 1, with his foot off the gas Rossetti was comfortable third overall +2:08.09) and first in the ERC standings with a minute in hand over Betti. With only the two rapid local drivers in front of him on the final day's eight stages, separated by an insurmountable gap, barring any problems for the Peugeot drivers, and with Betti dropping further and further out of the picture with gearbox issues, "Rox" was able to control his third place to collect the full allocation of championship points as well as another maximum haul on offer for the second day.
As the season moves past the halfway point Rossetti has extended is cushion over second placed Betti to 48 points; the Abarth driver is now on 185 points thanks to the 39 points he collected in Madeira while Betti is on 137 points, the Peugeot driver picking up another 29 points on the Portuguese island. There are five rounds left to be contested. However while Betti is Rossetti's only real remaining challenger to the ERC crown, he is consistently collecting points, having scored on five of the six rounds held so far, and any slip up by the Abarth pilot would play right into the Peugeot driver's hands. Third in the standings after 6 rounds is Polish driver Maciej Oleksowicz (Ford Fiesta S2000), he remains on 82 points after retiring in Madeira, while fourth is Czech Antonín Tlusták on 76 points, he is the only driver to have scored points on all six rounds.