Bron:
Italiaspeed.com
Overwinning voor Rossetti in Bulgarije
13-07-2011
Rossetti wist na wat tegenslagen op de eerste proeven, toch de overwinning te pakken dankzij een paar asfaltproeven in de laatste fases van de Rally van Bulgarije.
Door deze overwinning, behaald in een Abarth Grande Punto S2000 in Pegasus Racing kleuren, vergroot Rossetti zijn voorsprong in het ERC (Europese Rally Kampioenschap):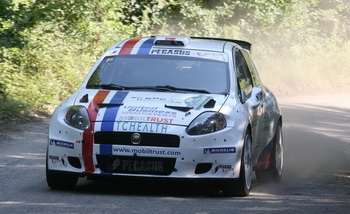 Another gritty drive from Luca Rossetti in Bulgaria saw the Abarth Grande Punto S2000 pilot clinch victory on the final two stages of the last day to extend his advantage at the top of the FIA European Rally Championship (ERC) standings with five rounds now completed. The Rally Bulgaria has grown in stature in recent years in a country where the sport commands huge attention and last year's 41st edition counted towards the FIA World Rally Championship, with Citroën pilot Sebastien Loeb writing his name into the event's illustrious roll call of winners.
Rossetti, who is scraping the budget together to defend his European crown as he goes through the season, turned up at the 42nd Rally Bulgaria behind the wheel of an Abarth Grande Punto S2000 run by the Turkish Pegasus Racing outfit, the Italian driver adding every bit of his undisputed star quality to the package as he took on a tough field led out by a clutch of fast local drivers and his closest ERC challenger, fellow countryman Luca Betti (Peugeot 207 S2000). The Grande Punto Rossetti used last weekend was in fact an ex-factory example driven by Giandomenico Basso on occasions during the 2008 and 2009 IRC seasons. Engine problems and a puncture put Rossetti on the back foot during the opening day in Bulgaria, and he was 11.7 seconds off the lead overnight, but on the final leg of the all asphalt-surface rally he fought back in real style. The Italian claimed the win on the last two stages where he was faster than rally leader Bulgarian Peter Gyoshev (Peugeot 207 S2000) who finished second. The last place on the podium went to Betti. Gyoshev, who is ERC registered, led for almost the entire rally and kept his first position right until the last two stages. He had started the final day of the rally with an advantage of 6.6 seconds ahead of Betti and 11.7 seconds ahead of third-placed Luca Rossetti. The latter was faster though and took the win.
During the second day of running on penultimate 'Muhovo' stage Rossetti built a 3.4 second advantage and on the last SS 'Slavovitsa' he gained another 3.7 seconds. In the end Rossetti was 7.2 sec faster than Gyoshev. This was the 18th time an Italian has won the rally.
Dimitar Iliev (Skoda Fabia S2000) was fast during the entire rally and dominated 7 (out of 10) stages where he posted the quickest times. The Bulgarian however had a puncture in SS2 which ended his dreams of taking the victory. He eventually finished fifth right behind Jasen Popov (Mitsubishi). Sixth was Ignat Isaev who drove for the first time with a S2000-specification car. Seventh was national champion and another ERC regular, Krum Donchev, who was the second of the favorites for the win to have a puncture in SS2. Antonin Tlust'ák (Skoda Fabia S2000) was eighth overall ahead of Maciej Rzeznik and Szymon Ruta who completed the Top 10. There was more Fiat representation down the finishing order as local crew Ivan Ganchev and Petar Iliev (Fiat Punto Kit Car) finished 12th overall and 2nd in the 2WD category, while one place further back were Turkish duo Fatih Kara/Bilge Ayan (Fiat Palio S1600). The final Italian car amongst the 19 finishers were Italians Vergnano Giovanni and Perino Samuele (Abarth 500 R3T).
In the European Rally Championship standings Rossetti is now on 146 points having claimed 39, 46, 28 and 33 points respectively from the four rounds he has contested so far. The 33 points he picked up in Bulgaria at the weekend was 11 more than Betti collected (22 points) and that opens the Abarth driver's cushion to 37 points with 6 rounds left to be contested. Maciej Oleksowicz didn't start in Bulgaria but he remains in a solid third place on 82 points while Tlust'ák who picked up 11 points stays in fourth place on 57 points. Iliev's haul of 21 points moves him up to fifth place on 46 points.
FIA European Rally Championship standings (after 5 of 11 rounds): 1. Rossetti ITA (Abarth) 146; 2. Betti ITA (Peugeot) 109; 3.Oleksowicz POL (Ford) 82; 4.Tlustak CZE (Skoda) 57; 5. Iliev BGR (Skoda) 46.