Bron:
Italiaspeed.com
Rossetti weer aan leiding in ERC na goed resultaat in Yper
27-06-2011
Rossetti slaagde erin om na een uitermate spannende rally van Yper weer aan de leiding te komen van het ERC (Europese Rally Kampioenschap).
Ondanks een paar lekke banden en het uitvallen van twee cilinders, wist Rossetti zich naar een uiteindelijke negende plaats te vechten, waardoor hij ook weer leidt in het ERC.
Zijn concurrenten hadden ook zo hun tegenslagen, waardoor Rossetti relatief weinig tijd verloor:
Luca Rossetti overcame early engine problems, as well as a spin and two punctures, to claim second place in the FIA European Rally Championship (ERC) standings on the Ypres Rally, which shot the Abarth driver back into the lead of the points classification. Following Rossetti's decision to skip the last round of the ERC, the Bosphorus Rally in Turkey, the Italian went into this weekend's Ypres Rally having given up the lead at the top of the points standings to Luca Betti, the Peugeot driver sitting on 87 points to the Abarth driver's 85.
With the Ypres Rally also counting towards the Intercontinental Rally Challenge (IRC), more than 30 Super 2000 cars lined up at the start ramp with a host of top names in the cockpits, meaning the aged and less-developed Abarth Grande Punto S2000 would have its work cut out to make it up the overall leaderboard. However, in Rossetti, Abarth has a real star on its hands, as well as a former Ypres Rally winner (in 2007), and he put his experience to good use – immediately on the pace, recording fourth-quickest times on SS3 and SS4, which moved him up to fourth place overall as well as making him the clear leader in the ERC standings. However, it all went pear-shaped on SS5, as 'Rox' suffered engine problems for the second rally in a row. Rossetti lost a minute as he was only 47th fastest: "Our engine is running only on three cylinders," he reported at the end of the stage. That plunged him down to 14th overall, and with an extra 10-second penalty, 1 minute and 44 seconds off the leader. Equally importantly, it put him just behind Michal Sołowow (in ninth place) and ERC points leader Betti (in twelfth place), both registered for ERC points. Rossetti bounced straight back on the next and final stage of the opening day – SS6 – with the fifth-fastest time overall, just ten seconds off the quickest test time, which pushed him up the leaderboard past Betti and into tenth place overall, only 4.5 seconds behind ERC leader Sołowow (Ford Fiesta S2000). "We had a problem with the engine and we also were late in the time control," reported Rossetti as the cars went into parc ferme. "We don't know what will happen."
Unfortunately, Rossetti's instant comeback was further derailed on the first stage of the second day (SS7). "I had a spin – fortunately I didn't go off," he reported. That adventure cost Rossetti 43 seconds; however, Sołowow lost 32 seconds, meaning the gap remained relatively steady. Two top ten test times on the next two stages – SS8 and SS9 – hauled Rossetti past Sołowow and into the ERC lead, as well as 9th place overall. However, the Italian's see-saw event dipped on the next stage (SS10) as he lost just over three minutes with a puncture picked up on the very first corner of the stage. The Italian was now down to 13th place overall and, crucially, behind Sołowow, the Pole having an impressive run and now up to 7th place.
The Abarth pilot put his foot down once more over the long final day, setting a string of competitive times, including 3rd on SS12, 6th on SS15 and 5th on SS16, before on the penultimate stage, SS17, Rossetti suffered his second puncture, although he was still able to post the seventh fastest time, only dropping 21 seconds. "We ran the last kilometre on a puncture. I don't know where we got it – there were a lot of cuts," he said. Rossetti completed the final stage, SS18, with the sixth-fastest time, which left him in 9th place overall, 7 minutes and 25 seconds behind the rally winner Freddy Loix, the Belgian winning the event for the seventh time. Most importantly, however, Rossetti completed the event second in the ERC standings to Sołowow, although with a limited program, the Pole isn't a serious title contender. The result was all the more emphatic as Betti retired following a crash, meaning Rossetti's points gap over the Peugeot driver is significantly more comfortable than it would otherwise have been.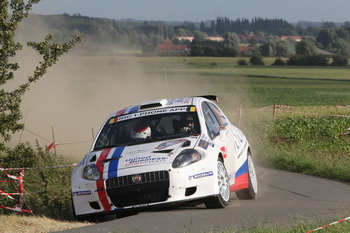 At the front Loix led the IRC qualifier from start to finish and moves back to the top of the IRC standings as a result. His victory, at the wheel of a SKODA Motorsport Fabia Super 2000, also puts him joint top with Juho Hanninen in the list of all-time IRC event winners, with seven triumphs to his name. Loix, who was co-driven by fellow Belgian Frederic Miclotte, was in control throughout the event. Not even rainfall prior to Saturday's opening test knocked him off his stride as he sped to a commanding victory by 1m41.6s over Peugeot France driver Bryan Bouffier. Hans Weijs claimed an impressive third on his debut behind the wheel of a Fabia and on his first start in this year's IRC. Guy Wilks began day two in second overall and on a high aboard his Peugeot UK 207 after he set the fastest time on the day's first stage. But a double puncture on stage 10 wrecked his hopes and dropped him to 11th overall. Despite a slow puncture causing a spin on stage 15 and a further deflation on stage 16 holding him back, Wilks snatched fifth on the final stage with the fastest time. "We're at the finish but we didn't get the result that mattered and that's a real shame," said Wilks. "The car was great although we didn't get the luck we needed. But there's no point thinking about it. We have to put it behind us and move on to the next rally." Bouffier was the chief beneficiary of Wilks' downfall when he moved up to second overall, having overtaken Pieter Tsjoen for the final podium place on stage eight. While Bouffier enjoyed a trouble-free run to the finish, Tsjoen was not so fortunate following a bizarre incident on the road section heading to stage 11.
The six-time Belgian champion had stopped by the side of the road for a short break but inadvertently struck a small metal post as he pulled away, which damaged his Peugeot 207's radiator. Although he made it through the stage, he and co-driver Lara Vanneste were unable to stem a water leak despite frantic repairs and the advice of several rival crews.
With Tsjoen out, Dutchman Weijs was now third and embroiled in a close fight with Bernd Casier, which raged until stage 14 when the Belgian stopped with power steering failure. Weijs had only managed a two-hour test in his Fabia before the start and his determined performance earned him the prestigious Colin McRae IRC Flat Out Trophy, which is presented on all rounds of the IRC to the driver best embodying the spirit of the rally legend. Casier's unfortunate exit promoted Michal Solowow into a fine fourth with his M-Sport Ford Fiesta S2000. But the Pole needed all his ingenuity to rectify a sticking throttle and reach the finish in Ypres's historic Grote Markt. Like Wilks, Kruuda was also slowed by a spate of punctures, while a minor intercom glitch on stage 10 didn't help his progress. However, he belied his lack of experience of asphalt driving to finish seventh and score points for his second event in a row, finishing up one place behind Patrick Snijers (Mini John Cooper Works S2000).
Toni Gardemeister took a strong eighth on his Ypres debut but the Finn could have finished higher up the order in his TGS Worldwide Fabia had it not been for a time-consuming puncture on stage 10. Rossetti was next up before Bernard Ten Brinke landed his maiden IRC points in tenth.