Bron: [url=http://www.italiaspeed.com/2011/motorsport/rally/others/targa_tasmania/prologue/0504.htmlItaliaspeed.com[/url]
20e Targa Tasmania van start gegaan
05-04-2011
Vandaag was de proloog van de 20e Targa Tasmania (asfalt-) rally in Niuew Zeeland. Met o.a. de winnaar van 2010 Jason White, in de witte Lamborghini Gallardo, die op de eerste proef vandaag de snelste tijd neerzette. Daarmee was hij vijf seconden sneller dan de Nissan GT-R van Tony Quinn. Tim Hendy volgde een seconde later in een 2005 Daytona Coupe. Hoewel hij zeer snel was, heeft White goed door dat er nog van alles kan gebeuren in deze zes dagen durende rally. A.s. vrijdag krijgen de teams acht proeven, waarbij gestart wordt in het Launceston Silverdome stadion:
Reigning champion, Jason White, has set the pace around the packed streets of George Town during the Temco Prologue at Targa Tasmania today. Driving his Lamborghini Gallardo Superleggera, White was an impressive five seconds quicker than the Nissan GT-R of Tony Quinn, with fellow Queenslander Tim Hendy a further second back in a 2005 Daytona Coupe. In the Classic Outright competition, it was the Datsun 240Z of Jon Siddins who upstaged perennial winner Rex Broadbent (Porsche 911), with German superstar, two-time World Rally Champion Walter Rohrl, settling into the event with the sixth fastest time for cars made pre-1986.
The factory cars battled it out in the Showroom class, with Mazda's Brendan Reeves taking a clear victory ahead of motoring journalist, Mike Sinclair, in his Skoda Octavia RS. In perfect weather conditions, the 20th anniversary edition of Targa Tasmania went off without a hitch, with the flame-throwing Lamborghini of Jason White once again proving that he'll be the man to catch. He was clearly faster than his rivals, although White knows that the Temco Prologue stage means little in a six-day tarmac rally. "The car felt really good," White said. "It's always good to blow off a bit of steam around here, but I think we were four seconds slower than last year. We had a bit of a misdemeanour in the first couple of corners. The roads have been resealed and there's loose gravel on them. We had a close look at the very first gutter we came across, which didn't set a very good scene for the rest of it, and we didn't know if there were going to be any more surprises. But it all went quite well, we had some fun, and we're all geared up for the rest of the event."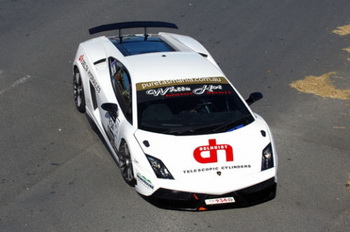 Another crowd favourite, touring car ace Dick Johnson, took things steadily in his 2009 Chevrolet Corvette Z06, with his eyes firmly on reaching the finish of the event. "Today is all about familiarising everyone with what's coming up, but you don't win it on the first day, not that our intentions are to win it," Johnson said. "We just want to get to the end and make sure we go well. The car feels fine, but it's very difficult to find out what it can do on a street stage, but I'm happy with it, and looking forward to the rest of the event." While Jon Siddins was the man to catch today in the Temco Prologue, it is expected the 1980 and 1982 World Rally Champion, Walter Rohrl, will battle it out with four-time Classic Outright winner, Rex Broadbent. "I'm feeling the pressure," Broadbent said. "There's a lot of pressure to do well, and there's at least five or six people who could beat us. Today is about getting the cob webs out. It was the first time I've hit the rev limiter in a car for six to eight months, but it was good, and the car was great."
Rohrl, on the other hand, was more intent on getting used to a car he hasn't driven in anger since 1981. "It was a nice experience," he admitted. "It's the first time I've been back on a special stage in this car and it just seems like 30 years ago. I feel like I've jumped back in time 30 years, like a young guy. The car is the same, it's soft, it's rolling quite a lot and not so much power, but I think that's what it was like 30 years ago. For me the biggest thing I don't know is tyres, because I have no experience of racing where I have to save my tyres. It will be a challenge for me to see how fast I can go and save my tyres."
The first day of Targa Tasmania gets underway from the Launceston Silverdome tomorrow morning, with competitors to tackle eight Targa stages to the north and west of Launceston.
RESULTS
Targa Tasmania puretasmania Modern
1. Jason White / John White, 2010 Lamborghini Gallardo Superleggera: 3m.09:00
2. Tony Quinn / Naomi Tillett, 2009 Nissan GT-R: +5.00
3. Tim Hendy / Anthony Chudleigh, 2005 Daytona Coupe: +5.85
Targa Tasmania Shannons Outright Classic
1. Jon Siddins / Darren Ferguson, 1970 Datsun 240Z: 3m.23:80
2. Rex Broadbent / Chris Randell, 1974 Porsche 911 Carrera RS: +0.20
3. Nicholas Ellis / Travis Lacey, 1977 Porsche 911 Carrera 3: +0.32
Targa Tasmania puretasmania Early Modern
1. Blaise Paris / Raechel Krause, 1999 Mitsubishi Lancer Evolution VI TME: 3m.14:38
2. Peter O'Keefe / Julie Winton-Monet, 2001 Nissan Skyline GT-R V-Spec II: +6.27
3. Ric Shaw / James Parish, 2000 Mazda RX-7: + 6.3
Targa Tasmania puretasmania Showroom
1. Brendan Reeves and Rhianon Smythe, 2010 Mazda 3 MPS: 3m31:50s
2. Michael Sinclair and Bill Hayes, 2009 Skoda Octavia RS: + 7.94s
3. Geoff Kennedy and Geoff Neale, 2007 BMW 130i: + 15.41s
Targa Tasmania TMR Performance 4WD Showroom
1. Tony Warren and Greg Boyle, 2006 Mitsubishi Lancer Evo IX: 3m23:52s
2. Matthew Heskin and Aleksandar Velkovski, 2008 Mitsubishi Lancer Evolution X RS: +1.02s
3. Scott Millar and Christopher Dean, 2008 Mitsubishi Lancer Evolution X: +7.53s
Targa Tasmania Shannons Early Classic Handicap
1. Paul and Christine Freestone, 1948 Holden 48/215: 3m30:81s
2. Scott and Wayne Kent, 1965 Ford Mustang: +7.93s
3. Paul and Mike Batten, 1961 Volvo PV544: +17.91s
Targa Tasmania Shannons Late Classic Handicap
1. Jon Siddins and Darren Ferguson, 1970 Datsun 240Z: 3m23.80s
2. Nic Ellis and Travis Lacey, 1977 Porsche 911 Carrera: + 0.32s
3. David Gainer and Gus Conduit, 1971 Datsun 240Z: +3.24s