Bron:
Italiaspeed.com
Knokkende Rossetti in de Alpen maakt alles nog mogelijk
05-09-2010
Hoewel de resultaten niet zo goed waren als gehoopt, eindigde het fabrieks Abarth team toch op een tweede en derde plaats, wat alle opties nog open laat in de titelstrijd. De grote rivaal Peugeot 2007 S2000 rijder Paolo Andreucci eindigde 11,4 seconden vòòr Rossetti en pakte daarmee de 1e plaats in de 46e Rally del Friuli e delle Alpi Orientali.
Giandomenico Basso en Mitia Dotta eindigden als derde met hun Abarth, wat een zeer goed resultaat was, gezien hun verlies op de eerste dag. Deze 5e ronde van het Italiaanse rally kampioenschap was belangrijk voor het Abarth-team, omdat de regels nu toestonden de wagens 20mm breder te maken. Gedurende de proeven bleek de Peugeot wederom te sterk te zijn voor het ondertussen budgetmatig geplaagde Abarth-team, maar de laatste dag bleek Rossetti in topvorm en wist vier van de zeven proeven te winnen. Helaas sloeg de pechduivel ook hier weer toe: Rossetti's differentieel ging kapot, waardoor er alleen tweewiel aandrijving overbleef.. Al met al had het ook slechter af kunnen lopen.
In het constructeurskampioenschap staat Abarth nog altijd bovenaan met zes punten ten opzichte van nummer 2 Peugeot. Dankzij de overwinning in deze rally, staat Peugeot-rijder Andreucci bovenaan met 40 punten, net boven Rossetti (Abarth) met 37 punten en derde man Basso (Abarth) met 29 punten:
Both Abarth factory drivers finished on the podium of the 46th Rally del Friuli e delle Alpi Orientali when it returned to the city of Udine in the northeast of Italy last night for the final time although this wasn't really the result the Scorpion team had been looking for as championship-leading Peugeot 207 S2000 driver Paolo Andreucci occupied the top step.
In the end there was a real battle to the chequered flag from the Abarth squad and after an all-out final day charge Luca Rossetti and Matteo Chiarcossi finished just 11.4 seconds back in second place while Giandomenico Basso and Mitia Dotta were a very solid third having recovered well from losing a chunk of time on day one. All-in-all was another strong drive by Rossetti who had suffered in the wet on Friday thanks to his main rival's superior tyres but fought tooth-and-nail right to the flag and ensured that the title race remains wide open as the series passes the halfway point. The 46th Rally del Friuli e delle Alpi Orientali, the fifth round of the Italian Rally Championship (CIR) was of particular significance to the budget-starved Abarth team as it was able to introduce an important new development step for the long-running Abarth Grande Punto, widening the Super 2000 car's track by 20 mm as allowed by this year's regulations.
The rally would be run over 530 km with 167.58 km timed and split over 14 stages, starting with the super special stage "Città di Udine" on Thursday evening with the remaining 12 test split up over Friday (6) and Saturday (7). Rossetti and Basso would face tough competition: title leader Andreucci, as well as experienced pilots Renato Travaglia and Piero Longhi, would all be out in Peugeots, Czech IRC star Jan Kopecký would drive the Skoda Fabia S2000 once again while Umberto Scandola and Andrea Navarra would be in the new Ford Fiesta S2000.
The rally kicked off with the 1.60 km "Città di Udine" super special stage in Udine, a city wedged in between the Adriatic Sea and the Alps, and it took place in a deluge of rain with Rossetti immediately going fastest on the soaking streets to move into the provisional overnight rally lead, although his time was a dead heat with Luca Cantamessa (Peugeot) while Basso was +0.1 seconds back in third and Andreucci +1.0 seconds off in fifth. Friday's first full day of action saw rain hit the rally hard and the superiority of Pirelli's tyre compounds on wet asphalt surfaces allowed Andreucci to make ground over the BFGoodrich-shod Abarth cars. The Peugeot driver immediately moved into the rally lead and had extended his cushion to 22.5 seconds over second placed Rossetti by the end of the day's six stages. "Rox" won the final two stages of the day (the last test was a dead heat with Andreucci) to ensure that his rival remained within a fighting distance but the Abarth star was hampered by the superiority of the Peugeot driver's tyres and acknowledged strengths in rainy conditions. Basso rode shotgun capably: after suffering a puncture on SS3 and losing 47.9 seconds he ended the day 51.2 seconds off the rally leader but more than half a minute clear of fourth placed Kopecký (Skoda).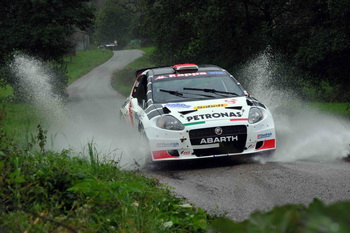 Yesterday's final day saw Rossetti mount a fight back with everything he had, winning 4 of the day's 7 stages, and although he was able to chip away at Andreucci's lead and had it down to just 6.6 seconds after the penultimate test, the Peugeot driver remained in control as Rossetti's differential blew 3 km from the end of the rally leaving him running in two wheel drive format and Andreucci ran out the winner with a slender 11.4 second cushion at the chequered flag. Basso, who picked up a final day fastest stage time on SS11, made it two Abarth Grande Punto S2000s on the podium, 1 minute and 8.1 seconds back off the winner, but more than a minute-and-a-half clear of Kopecký who was never able to drag the Skoda into contention for a podium finish. In the end the Czech driver was just 6.1 seconds ahead of Travaglia who had hauled himself as high as second place overall on SS3 before dropping out of the podium positions after losing time on SS7. It all means that in the CIR manufacturers' championship standings Abarth retains the top spot, maintaining the 6 point advantage over Peugeot it had going into this round, while in the drivers' championship Andreucci opens up his cushion at the top to 3 points over Rossetti from 1 point going into this event. The next and sixth round of the CIR will be the Rally Sanremo which takes place on September 22-24.
Italian Rally Championship, Rd 5: 46th Rally del Friuli e delle Alpi Orientali, Final Positions:
1.Andreucci-Andreussi (Peugeot 207 S2000) in 2 hr 1'16"9; 2. Rossetti-Chiarcossi (Abarth Grande Punto S2000) + 11"4; 3. Basso-Dotta (Abarth Grande Punto S2000) + 1'08"1; 4. Kopecky-Stary (Skoda Fabia S2000) + 2'41"5; 5. Travaglia-Granai (Peugeot 207 S2000) + 2'47"9; 6. Perico-Carrara (Peugeot 207 S2000) + 2'48"0; 7. Scandola-Pirollo (Ford Fiesta S2000) + 3'08"0; 8. Cantamessa-Capolongo (Peugeot 207 S2000) + 3'47"8.
Italian Rally Championship, Manufacturers' Classification (after 5 rounds):
1. Abarth 66 points; 2. Peugeot 62; 3. Skoda 25; 4. Ford 16.
Italian Rally Championship, Drivers' Classification (after 5 rounds):
1. Andreucci (Peugeot) 40 points; 2. Rossetti (Abarth) 37; 3. Basso (Abarth) 29; 4. Kopecky (Skoda) 24; 5. Travaglia (Peugeot) 18; 6. Scandola (Ford) 14.