Bron:
Italiaspeed.com
Rosetti valt uit in Madeira tijdens titelstrijd
07-08-2010
Tijdens een felle strijd om de titel, crashte Rosetti en kon niet anders dan toezien hoe Skoda-rijder Loix een voorsprong kon nemen. Rosetti vloog uit de bocht in een snelle linkse bocht, een kilomter voor de finish. Tot dan toe kon hij met moeite nog wat snelle tijden neerzetten en punten pakken, maar die kansen zijn nu verkeken. Zijn teamgenoot Giandomenico Basso kon niet meedoen, in verband met budgettaire problemen:
Abarth's bid for to collect a fourth win in five years on the prestigious Rali Vinho da Madeira evaporated on the penultimate stage of the rally's first leg yesterday afternoon as Luca Rossetti's Abarth Grande Punto S2000 was destroyed in a major crash. Luckily both Rossetti and co-driver Matteo Chiarcossi escaped serious injury.
With Giandomenico Basso ruled out of the Atlantic island rally at the very last minute due to a small budget shortfall, despite his three wins and a second place in the last four events, it was left to his Scorpion team mate Rossetti to uphold Fiat Group honour on the event, the Italian using the rally to chase points towards the FIA European Rally Championship (ERC) which he is contesting this year. "Rox" was at the wheel of a Procar-run machine, his regular ERC mount (apart from the last round in Turkey when he used a locally-owned Grand Punto S2000) and he came into the event, which also counts towards the Intercontinental Rally Challenge (IRC), as the clear ERC leader and off the back of an overall win last time out. Starting with a very solid fifth place (+2.3 seconds off the stage winner) on the opening superspecial stage round the habour front streets of Funchal on Thursday evening, Rossetti commented: "I hope to continue like on this stage, car is OK, tyres are good." He moved up to fourth place on the first stage of Friday's long Leg One (+4.9 seconds behind stage winner Freddie Loix), which comprised of 12 fast and demanding stages. "There was a lot of water on the road, it was difficult," the Scorpion star, a former ERC champion in 2008, related as the day got underway with that test. On SS3 Rossetti claimed his first fastest stage time of the rally, a full 6.5 seconds quickest, to catapult into the overall lead ahead of Loix (Skoda Fabia S2000), who was pushed down to second place, before the cars went into the first service point of the day. In the services Rossetti, who was making his first start in the IRC this season, insisted a "good feeling" with his Procar-run machine had given him this initial edge, rather than his choice of tyre compound. "I am confident with my car, we have good setup I think," he said.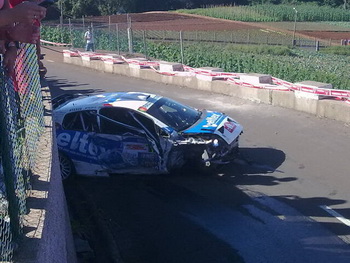 Rossetti was only fourth quickest on SS4, however dropping just 3.6 seconds to Loix who posted the best time, and that bumped Rossetti off the top of the leaderboard. "Not bad, but we have a not good setup, we have to change it," said Rossetti as he headed toward the last test of the day's second of four loops. The roles were reversed on that next stage as the Abarth driver posted his second top scratch time of the morning, taking 6.1 seconds out of Loix's lead (the Belgian was only fourth fastest) to open up a 4.3 second advantage at the front as the field headed for the second service point of the day. "The car was sliding a lot before," Rossetti reported from the service park as the Procar mechanics made changes to the Scorpion machine's set-up, "but now it is much better."
Back out onto the roads and into SS6 where Rossetti was equal fourth fastest, dropping just 2.5 seconds to Loix who went quickest as the day shaped up to be a battle between these two for supremacy at the front, and that cut the Abarth driver's lead to 1.8 seconds. "This time I am not happy,' said the Italian, "I tried a lot, but it was slippery, I lost a lot of time." The Skoda driver reeled off another fastest time on SS7 to clamber back to the top of the classification, bumping Rossetti down to second place, 2.5 seconds adrift, with Kris Meeke in third place (+6.1 seconds), the first of the Peugeot-mounted runners. Loix was fastest again through SS8, 5.1 seconds quicker than Rossetti, to open the gap to 7.6 seconds, while on SS9 Rossetti took his third fastest overall time of the leg, albeit just 0.5 seconds ahead of the Skoda pilot, as the third service point of the day called and the transmission was changed on Rossetti's Grande Punto Abarth. "Freddy is pushing," reported the Italian in the service park, "but I am happy, I do what I can."
Into the day's final four stages, all on their second loop, and Loix reeled off another fastest time on SS10 to open the gap to 8.1 seconds before Rossetti bounced straight back on SS11 to take his fourth (and ultimately final) fastest scratch time of the day, one second ahead of Loix, and so with two stages remaining in the first leg the gap was 7.1 seconds. "I am really happy about the car," reported stage winner Rossetti, "we changed the setup of the rear diff and it is very good." The day's battle was simply all about these two: third placed Meeke was more than 10 seconds back with the Briton locked in a nail-biting fight with Juha Hanninen (Skoda), the pair separated at this point by just 0.4 seconds. However the titanic struggle, which was pitting Rossetti in the ageing and under-developed Grande Punto S2000 against much more modern and well-funded Super 2000 machines, ended abruptly on the next test as the Italian crashed heavily into a wall on a fast left-hand bend less than one kilometre from the finish of what was the second run through the 13.85-kilometre Cidade de Santana stage. Chiarcossi, was immediately taken to hospital for checks on a possible injury to an arm.
At the front at the end of the first day Loix was firmly in control winning a total of eight stages (only the Belgian driver and Rossetti got a look in with fastest times during the day, sharing the top scratch times in the twelve tests out between them), but it had been far from straightforward for the 39-year-old Loix, who is nursing an injured shoulder after falling off his motorbike two weeks ago. He has received several painkilling injections to ease his discomfort and admitted he was relieved to have completed the leg, which covered 183.04 competitive kilometres. Defending IRC champion Kris Meeke is second overnight in his Peugeot UK 207. He was fastest through Thursday evening's stage along Funchal's seafront but was one of a number of drivers to drop time on stage three when his brakes began to fade at the end of a long downhill section. Meeke gradually slipped back during Friday afternoon and said he was unable to explain his loss of time as he battled against the factory Škodas, although he did suggest his car was slightly nervous over bumps and hesitant exiting tight hairpins.
Rossetti went into the rally with a total of 149 points in the ERC standings after 5 rounds (he has contested 4 of these events) and an 89 point cushion over his nearest challenger, Peugeot driver Luca Betti (60 points) who elected not to start this rally, while it was a similar no-show in Madeira from third placed Subaru pilot Maciej Oleksowicz (58 points) and fourth placed Ford Fiesta driver Michal Sołowow (56 points). Fifth placed Corrado Fontana (52 points) and sixth placed Jan Kopecký (43 points) thus picked up the top ERC points on offer at the end of Leg One last night, in reverse order, with the Skoda pilot capitalising on Rossetti's misfortune to move up to third place overall on the rally while Fontana (Peugeot 207 S2000) languishes down in twelfth place with 26 runners remaining going into today's final eight stages.