Bron:
Italiaspeed.com
Overwinning voor Rosetti in Turkije
26-07-2010
Ondanks dat de Abarth Grande Punto S2000 op leeftijd is en zich meer thuisvoelt op harde ondergrond, wist Rosetti zijn Abarth toch naar een overwinning te sturen in de Bosporus rally in Turkije. Hiermee vergrootte hij zijn titel voorsprong met 89 punten. Door een aantal proeven als snelste af te leggen, kreeg hij 21 punten extra mee, bovenop de 25 punten voor zijn overwinning. Niet alleen de Abarth van Rosetti deed het goed, ook een door lokale rijder en viervoudig Turks rallykampioen Serkan Yazici bestuurde Abarth Grande Punto S2000 deed het uitstekend, want deze finishte als tweede, achter Rosetti:
Abarth driver Luca Rossetti turned in a masterful display over the demanding Turkish gravel at the weekend to claim maximum FIA European Rally Championship (ERC) points on the Bosphorus Rally, the country's oldest motorsports event, and in doing so extend his advantage in the title chase to a massive 89 points with five of this year's eleven rounds now completed. The Abarth Grande Punto is ageing fast and has never been completely at home on gravel surfaces, so the famous Scorpion machine was handed a further boost in its twilight years as four-time Turkish Rally Champion Serkan Yazici (2000, 2001, 2004 and 2008) made it two of the Turin-built Super 2000 machines on the podium in Istanbul late yesterday afternoon. Rossetti, driving a privately-entered local Abarth Grande Punto S2000 on this occasion, collected 25 points in Turkey for securing the overall win, plus 21 points for being fastest across each of the three legs (with seven points on offer for each day) – and his title bid was further bolstered as all his main title rivals hit major problems and dropped valuable points. The Italian, when he took the chequered flag at 4pm yesterday afternoon, also made it two wins in three years on the Bosphorus Rally (he won in 2008 at the wheel of a Peugeot 207 S2000). The Bosphorus Rally, which, as well as being the fifth round of this year's ERC also counted towards the Turkish Rally Championship, started with a huge crowd in Bagdat Street on Friday evening. After the ceremonial start, the crews returned to the service park for refuelling before continuing on to the first stage of the event, Deniz 1. For this event Rossetti was at the wheel of a locally-entered private Abarth Grande Punto S2000 from Team Pegasus owned by Cem Acar which has also been running Yazici all year. The Super 2000 machine was run by Factory Speed Turcars, whose Team Principal is Aramaci Yusuf. Rossetti started the opening stage in first position as the top-seeded driver, but as the 'road sweeper', he was faced with a difficult mission. Despite this, he was still very rapid, and his time was only 1.3 seconds slower than the fastest driver through the test, Maclej Oleksowicz (Ford Fiesta S2000). Turkish youngster Yagiz Avci (Ford Fiesta S2000) was the fastest local driver through the stage. On the second and final stage of the opening evening Rossetti, took his first fastest time of the rally in front of Avci, one of Turkey's rising rally stars, which carried him straight into the overall lead and handed him the maximum ERC points available for the opening day. It would be a lead that Rossetti would never relinquish over the remaining 14 stages spread over the next two days. Opening stage winner Oleksowicz was 14.3 seconds slower on SS2 meaning he slipped down to third position. Rossetti's closest ERC rival, Luca Betti (Peugeot 207 S2000) suffered a puncture on SS2 and had to stop and change the tyre. However that tyre then punctured too, and he ended up losing almost half an hour.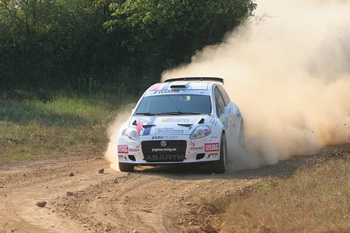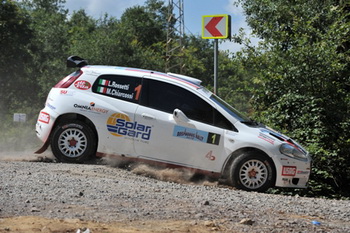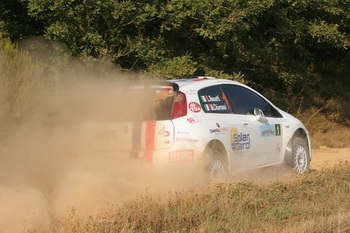 Rossetti continued his dominant form throughout Saturday's second day, winning four stages and extending his advantage over Avci, who won three of the leg's eight stages, to half a minute. Yazici, in the other Pegasus-entered Grande Punto Abarth, was third at the end of the day, Ukrainian Yurii Protasov held onto fourth place, while another Turkish driver, Ercan Kazaz, completed the top five. While the Scorpion pilot collected his second maximum day's ERC score, his key title rivals all suffered badly: Oleksowicz was hit by mechanical problems and was unable to finish the day while Betti and Italian Corrado Fontana (Mitsubishi Evo) also had similar difficulties. Yesterday's third and final day saw Rossetti again increasing his advantage at the front over the leg's six timed stages that totalled 114 km and he ran out the clear winner as the cars rolled into the service park located in Pendik for the victory ceremony, a clear minute ahead of Avci's Fiesta, and with Yazici in third that made it two Abarths on the final podium. The experienced local driver finished 2 minutes and 30.8 seconds behind Rossetti but had just under three minutes in hand over Kazaz in fourth place as well as collecting important points towards the Turkish championship.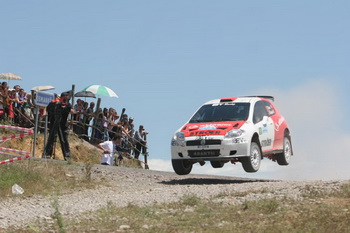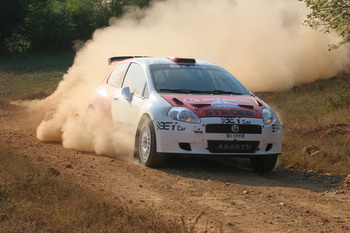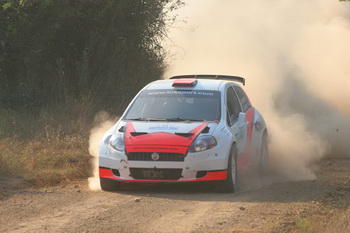 It all means that Rossetti has extended his ERC points advantage to 89 points with six rounds of the series remaining as he chases a second title in just three years and a second consecutive one for Abarth (Scorpion factory legend Giandomenico Basso is the reigning champion). The 46 points 'Rox' collected last night represented his second maximum score of the year and he now sits on a commanding 149 points, opening up his advantage after his closest rival, Betti, closed his lead down by 20 points on the previous round of the series, the Ypres Rally, which the Abarth driver skipped. Betti failed for collect any points in Turkey and thus remains in second place on 60 points. Oleksowicz moves up to third place after collecting 10 points, thanks to taking advantage of the Superally rule to rejoin the event. In the process, he overhauls Solowow, who didn't make the trip to Turkey and remains rooted on 56 points, just ahead of Fontana, who managed to add just 2 points to his total, leaving the Italian on 52 points. In sixth place is Skoda factory driver Jan Kopecký with 43 points.