Bron:
Italiaspeed.com
Jason White Met Gallardo Super Trofeo in Targa Tasmania
27-04-2010
Jason White behaalde de eerste plaats in de Targa Tasmania proloog, in zijn nieuwe Lamborghini Gallardo Super Trofeo racer. Eerder reed hij ook al in een Gallardo, maar nu hij overgestapt is naar een Gallardo Super Trofeo, het type dat speciaal voor de Lamborghini Super Trofeo gebouwd wordt, wordt het veel moeilijker voor de concurrentie om hem bij te houden. Jason White was zeer in zijn nopjes over de auto en in plaats van het rustig aan te doen, beviel de wegligging zo goed, dat hij al gauw het gaspedaal indrukte:
The official Temco Prologue at Targa Tasmania has confirmed that the 2010 running of the classic tarmac rally will be one of the most hotly contested in the 19-year history of the event.
Jason White, driving his new street-legal Lamborghini Gallardo Super Trofeo racer, got off to a blistering start today, making the point to his rivals that he is determined to back up his victory from Targa Wrest Point in January. White, who has been campaigning a Gallardo on the Targa Tasmania for the last few years has switched to the specification of the Gallardo Super Trofeo, the one-make racer introduced by Lamborghini to the European circuits last year. With changes to the specification of his Lamborghini, his car appears faster than in previous events, which will be a major concern to his rivals.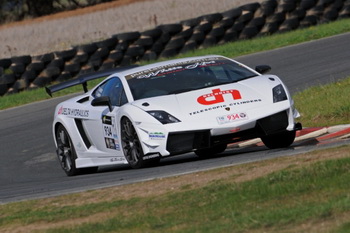 "This new car has certainly put a grin on our faces. It's a hell of a lot of fun to drive and we've never really had a crack at the Prologue before," White commented. "We've always gone at a reasonable pace, but never recced it or used pacenotes for it before. The plan was to go slow and steady, but it all felt nice when we took off, and we definitely went around there quicker than we've ever gone before. It was a bit of a confidence builder. We took it to the limit on most of the corners, but being such a new car as well, you also need to learn how to drive it. It doesn't come automatically, and it's quite different to the other one. It was quite a confidence inspiring run. I could put the car wherever I wanted to, and the suspension was the best that I've ever driven with. Everything just felt as it should be."
Pre-event favourites White (who is running the Raging Bull machine in the "Modern" category), Rex Broadbent (Classic) and Tony Warren (Showroom) have set the fastest times in their respective categories, in front of a big crowd of enthusiastic spectators. The 4.81 kilometre street stage around George Town was held in fine, dry conditions. While the results determine road positions for the remainder of the event, times recorded over the Prologue stage do not count toward the overall Targa Tasmania results. Behind White, Queenslander Tim Hendy was a surprise second driving a 2005 Daytona Coupe, 5.65 seconds back, with West Australian Steve Jones third in his 2008 Nissan GT-R, 6.36 seconds off the Lamborghini driver. Last year's winner, Tony Quinn was fourth and eight-time winner Jim Richards fifth. Both will now push hard to make an impact when the rally gets underway in earnest on Wednesday morning.
Victorian Rex Broadbent was the fastest Classic car over the Temco Prologue stage. His 1974 Porsche 911 RS was 2.41 seconds quicker than Tasmanian hope, David Cooper, in his 1977 Torana A9X. Peter Eames, who Broadbent thinks will be his greatest rival this year, was third, another 1.39 seconds back in his 1974 Porsche 911 Carrera RS. Broadbent, the defending Classic Outright champion, is looking forward to the challenge of the next five days after a late decision to enter the foray. "A week before the event I decided I'd better do it," Broadbent said. "Chris (Randell) volunteered to be my navigator at the last minute, so it's all come together rather quickly, but the car felt good today - really good. We got through cleanly; nothing to worry about and we didn't knock any wheels off.
Hobart driver Tony Warren confirmed his favourite status to take the Showroom title. The former winner, driving a Mitsubishi Lancer Evo 9, heads the newer Lancer Evo X of motoring journalist Dean Evans by 2.34 seconds. The Mazda 3 MPS of 21-year-old Victorian, Brendan Reeves, was third quickest in the Showroom competition over the short street stage. Quickest Vintage car was the newly acquired 1938 Dodge Speedster Special of Wayne Clark and Roger Richardson.
The first full day of Targa Tasmania competition tomorrow will see the full field of over 270 competitors head on a loop from Launceston via Sheffield. Eight Targa stages with a total competitive distance of just over 56 kilometres make up the day's total.
PURE TASMANIA MODERN COMPETITION
1. Jason White (TAS) / John White (TAS), 2010 Lamborghini Gallardo Super Trofeo Strada
2. Tim Hendy (QLD) / Daniel Wilson (TAS), 2005 Daytona Coupe, +5.65s
3. Steve Jones (WA) / Ben Searcy (WA), 2008 Nissan GT-R, +6.36s
4. Tony Quinn (QLD) / Naomi Tillett (SA), 2009 Nissan GT-R, +6.87s
5. Jim Richards (VIC) / Barry Oliver (TAS), 2010 Porsche 911 GT3 CS, +8.77s
6. Kevin Weeks (SA) / John Allen (QLD), 2009 Lamborghini Gallardo Superleggera Type R, +9.28s
7. Jamie Vandenberg (TAS) / Simon Vandenberg (TAS), 2006 Mitsubishi Lancer Evo IX, +9.33s
8. Dean Herridge (WA) / Glen Weston (QLD), 2008 Subaru Impreza WRX STI, +10.26s
9. David Scott (QLD) / Michelle Berardo (QLD), 2005 Subaru Impreza WRX STI, +11.68s
10. Ray Vandersee (QLD) / Cameron Reeves (QLD), 2009 Skelta G-Force S/C Spec A, +13.52s
SHANNONS CLASSIC OUTRIGHT
1. Rex Broadbent (VIC) / Chris Randell (VIC), 1974 Porsche 911 Carrera RS
2. David Cooper (TAS) / Jason Dann (TAS), 1977 Holden Torana A9X, +2.41s
3. Bill Pye (NSW) / Grant Geelan (NSW), 1974 Porsche 911 Carrera RS, +3.80s
4. Simon Froude (TAS) / Andrew Scott (TAS), 1973 Porsche 911 RSR, +5.32s
5. Peter Eames (VIC) / Will Logan (TAS), 1974 Porsche 911 RS, +5.95s
6. George Pethard Jnr (NSW) / Adrian Johnstone (NSW), 1976 Porsche 911 Carrera 3, +5.97s
7. Peter Ullrich (NSW) / Sari Ullrich (NSW), 1963 Jensen CV8, +6.69s
8. Jon Siddins (QLD) / Darren Ferguson (QLD), 1970 Datsun 240Z, +6.81s
9. Barry Faux (ACT) / Therezia Mihajlovic (ACT), 1979 Mazda RX7, +9.67s
10. Hans De Corti (WA) / Mark De Corti (WA), 1974 Porsche 911 Carrera RS, +11.16s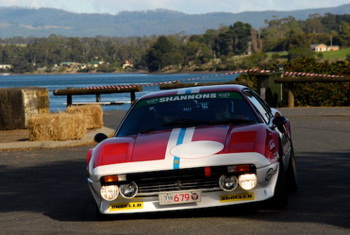 PURE TASMANIA SHOWROOM COMPETITION
1. Tony Warren (TAS) / Natasha Deniese (VIC), 2006 Mitsubishi Lancer Evo IX
2. Dean Evans (NSW) / Simone Bachmann (VIC), 2008 TMR Evolution X Club Spec, +2.34s
3. Brendan Reeves (VIC) / Rhianon Smyth (VIC), 2009 Mazda3 MPS, +12.34s
4. Scott Millar (QLD) / Christopher Dean (QLD), 2008 Mitsubishi Lancer Evo X, +14.10s
5. Greg Burrowes (QLD) / Rhonda Burrowes (QLD), 2008 Mitsubishi Lancer Evo X, +15.96s
SHANNONS CLASSIC HANDICAP
1. Rex Broadbent (VIC) / Chris Randell (VIC), 1974 Porsche 911 Carrera RS
2. David Cooper (TAS) / Jason Dann (TAS), 1977 Holden Torana A9X, +2.41s
3. Bill Pye (NSW) / Grant Geelan (NSW), 1974 Porsche 911 Carrera RS, +3.80s
4. Simon Froude (TAS) / Andrew Scott (TAS), 1973 Porsche 911 RSR, +5.32s
5. Peter Eames (VIC) / Will Logan (TAS), 1974 Porsche 911 RS, +5.95s
PURE TASMANIA EARLY MODERN
1. Jeff Beable (VIC) / Nerida Be able (VIC), 2000 Nissan Skyline GT-R V-Spec N1
2. David Ayers (TAS) / Robbie Bolton (NSW), 1997 Nismo 400R, +0.10s
3. Andrew Bollom (VIC) / Jon Roberts (VIC), 1997 Mazda RX7, +1.80s
4. Gavin James (VIC) / Tim Kulhanek (TAS), 1989 Porsche 944 S2, +5.76s
5. Brendan Manion (TAS) / Travis Dean (TAS), 1995 Nissan Skyline GT-R V-Spec N1, +5.87s
PURE TASMANIA ROOKIE RALLYE MODERN
1. Adam Newton (VIC) / Daniel Lemish (VIC), 1997 Mitsubishi Lancer Evo IV RS
2. Andrew Barlow (VIC) / Andrew Re (VIC), 2000 Porsche 911 Turbo, +7.51s
3. Robbie Maher (TAS) / Peter Roberts (TAS), 1993 Mazda RX7 SP, +13.49s
4. Stephen Spada (NSW) / Christine Condon (NSW), 1999 Mitsubishi Lancer Evo IX RS, +13.84s
5. Danny Traverso (VIC) / Jarrod Smith (VIC), 2005 Mitsubishi Lancer Evo IX, +16.70s
PURE TASMANIA ROOKIE RALLYE CLASSIC
1. Stephen Barrand (VIC) / Tim Manion (TAS), 1981 Volvo 242GT
2. Robert Clayton (TAS) / Diane Wilkinson (TAS), 1972 Bolwell Nagari, +6.45s
3. Wayne Mercer (VIC) / Graeme Parker (VIC), 1976 Holden Torana A9X, +8.96s
4. Justin Quinn (QLD) / Stuart Paine (TAS), 1973 Holden HQ, +10.27s
5. Peter Edwards (TAS) / Barbara Edwards (TAS), 1977 MGB Roadster, +11.65s