Bron:
Italiaspeed.com
Gardemeister snelste in Rally Monte Carlo proloog
20-01-2010
Het Abarth fabrieksteam doet weliswaar niet mee aan deze rally, maar de Fin Toni Gardemeister rijdt wèl in een Abarth Grane Punto S2000 en won de proloog van de Monte Carlo Rally. Hij reed de 8.83 kilometer lange proef van Lente op de Col de l'Echarasson naar de finish aan de voet van de Col de Gaudissart in 6:54:2. Hij was zelf hoogstverbaasd de snelste tijd te hebben gezet, omdat hij maar 50 kilometer met de auto had gereden vòòr de start van de rally. Naast twee andere privé-Abarth Grande Punto's van de Fransen Renaud Poutot/Lionel Currat en Olivier Marty/Thomas Roux (23e en 24e plaats), reed er ook een Alfa 147 TS mee, die derde eindigde in zijn klasse (N3), bestuurd door Martin Rada and Jaroslav Jugas:
The factory Scorpion team might have backed away from the toughest of challenges, however Toni Gardemeister has immediately registered his intent to fight for victory by winning the the prologue stage of the 78th Rallye Automobile Monte-Carlo at the wheel of a private Astra-run Abarth Grande Punto S2000 last night. "The time was OK, but cleaning was difficult," said the Finn at the end of the short stage, "I didn't know, if there was dry tarmac or ice." The 78th Rallye Monte Carlo is the opening round of the 2010 Intercontinental Rally Challenge.
Gardemeister and co-driver Tomi Tuominen completed the 8.83-kilometre climb from Lente up the Col de l'Echarasson to the finish at the foot of the Col de Gaudissart in a time of 6:54:2. The Finn, who was lying second overall last year in a similar Astra Racing-run Abarth Grande Punto S2000, before retiring, said last night that he was surprised to have gone fastest of all having only completed 50 kilometres of pre-event testing. Gardemeister commented: "The grip was better than I expected it to be even though there was ice for 40 per cent of the stage. The speed did not feel so good so I am surprised I was fastest."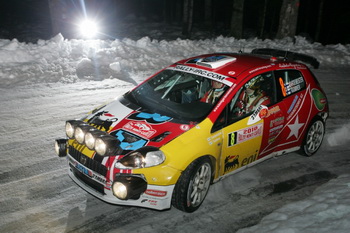 Although the results of the stage won't count towards the final standings, they will have an influence on the starting order for today's opening leg. But rather than tackling today's four stages first on the road, Gardemeister will be the tenth car to head out from the service park in Valence. That's because the top ten seeded finishers from yesterday evening's test will run in reverse order when the action proper gets underway this morning. The other two private Abarth Grande Punto S2000 machines in the 78th edition of the world's most prestigious rally are being campaigned by privateer French crews Renaud Poutot/Lionel Currat and Olivier Marty/Thomas Roux, they were locked in battle last night finishing 23rd and 24th overall on the prologue respectively.
Meanwhile a highly impressive 42nd overall out of the 55 crews to safely complete the prologue stage was Martin Rada and Jaroslav Jugas in their venerable Alfa Romeo 147 TS. The Czech crew, who turned in a true giant-killing performance last year with the same car, were third in their class (N3) over the short stage last night.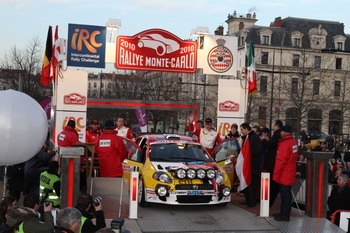 Nicolas Vouilloz, making his debut appearance in a Skoda Fabia S2000, was second fastest even though he reported driving conservatively for much of the stage, with his Skoda Motorsport team-mate Jan Kopecky third last night. "It was very slippery at the first corner so I decided not to take too much risk after that," said the Frenchman. Defending IRC champion Kris Meeke was fourth in a Peugeot 207, with Mikko Hirvonen giving M-Sport's new Fiesta S2000 a promising debut with the fifth quickest time. Meeke, and last year's Monte Carlo winner, Sebastien Ogier, both picked up punctures during the stage but completed the run without dropping too much time. Skoda UK driver Guy Wilks was first to tackle the 8.83-kilometre course in his Fabia Super 2000. He was eight fastest and said: "It was tricky because it was difficult to see if you were driving on ice or a damp surface. If anything we had the car set-up too hard so it's something else we've learned and that can only help for tomorrow." Portugal's Bruno Magalhaes admitted he had struggled during the opening section of the stage as he adapted to driving his Peugeot 207 on studded tyres for the first time. He was 12th fastest. "It was wet Tarmac for the first 1.8 kilometres and I lost a lot of time because of this," he said. The rally though got off to a very disappointing start for new Renault Formula One driver Robert Kubica. He is reported to have retired from the prologue stage with a suspected engine failure. It's not clear if he will start the rally proper today. Special stage one, from Burzet to Lachamp Raphael in the Ardeche region of France, gets underway at 11:51 local time today.