Bron:
Italiaspeed.com
Luca Rossetti winnaar Rally di Como, maar mist de CIR titel
25-10-2009
Luca Rossetti en co-piloot Matteo Chiarcossi wonnen de 28e Rally di Como, maar slaagden er niet in de titel van het Italiaanse Rally Kampioenschap te bemachtigen. Ondanks een portie geluk, kon Rossetti niet een 'dubbele' overwinning vieren; vorig jaar won jij de titel voor Peugeot, dit jaar zijn grote concurrent. Weliswaar kwamen ze 66 punten tekort, maar dat was evenveel als het winnende Peugeot team, wat een gedeelde zege opleverde:
Luca Rossetti and Matteo Chiarcossi won the 28th Rally di Como over the weekend, the final round of the 2009 Italian Rally Championship (CIR), however they agonisingly lost the title in a tie-break after finishing on level points with bitter season-long rival Paolo Andreucci. Despite winning the penultimate round of the series, the Rallye Sanremo, held at the end of last month, Rossetti trailed his Peugeot Italia rival going into this closing event by six points and he needed a real stroke of fortune to get back on level terms. That stroke of fortune almost arrived as the Abarth pilot battled his way into the overall lead and Andreucci punctured, but it wasn't quite enough to sway the title his way and give him back-to-back titles (last year Rossetti won the CIR for Peuget). The victory did allow Rossetti to finish level with Andreucci, both amassing 66 points each. Both drivers won three events of the seven the contested (the factory teams skipped the first two runds in protest at the size of the calendar) with Rossetti winning the Targa Florio, Sanremo and Como rallies – but the tie-breaker rule gave Andreucci the title thanks to a larger number of second places.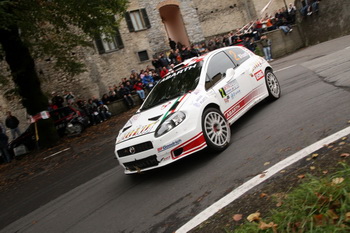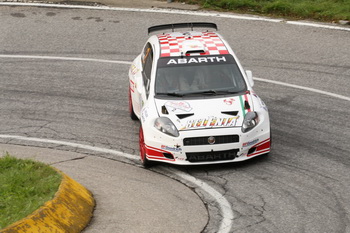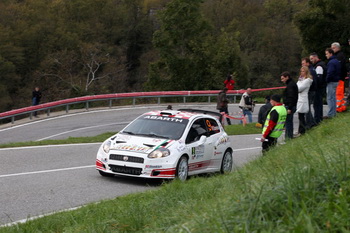 At the finish, Abarth team manager Nicola Gullino said: "The 2009 edition of the Italian Championship has been for sure the most hard-fought of all times. I'd like to thank our partners and all the team for their season-long commitment, which allowed the Grande Punto Abarth to be competitive on every type of surfaces and to consistently deliver increased performance. We fought nail and tooth in all the eight rounds of the championship which drew to a close in an emotional manner with two consecutive wins for Rossetti". During the Rally di Como, the Abarth driver took good advantage of his Abarth Grande Punto S2000's nimbleness and drove flat out during the second leg to win five of the seven special stages. At the end of the first leg, he was in third place, moving up to second on the final leg and on the penultimate stage, he managed to pass long-time championship points leader this year, Renato Travaglia (Peugeot 207 S2000), who was leading the event at this point and who held on close to finish second, just 3.2 seconds back.
Curiously after running a third car in the previous two CIR events, Scorpion regular Anton Alén on the Rally Costa Smeralda and Francois Duval on the Rallye Sanremo which also counted towards the Intercontinental Rally Challenge (IRC), the Abarth factory chose to stick with the usual line-up of Rossetti and youngster Umberto Scandola at the weekend, especially as Giandomenico Basso was available without clashing calendar commitments, and this could have proved costly as if another car had finished in between Rossetti and Andreucci it would have swayed the title in the Abarth driver's favour. However arguably Peugeot Italia could have asked either second placed Travaglia or Luca Cantamessa in third to take a time penalty. Continuing to indulge Scandola into a third season with the factory team also seems a curious decision as he has made no contribution again, collecting just 10 points this year, thanks to three sixth places and one eighth, and he made a very early exit from the Rally di Como. Tuscany's Emanuele Dati did very well at the wheel of a privately entered Abarth Grande Punto S2000, and he has clinched the Italian Rally Championship's Privateers title. He finished eighth overall in the Rally di Como after a very solid drive.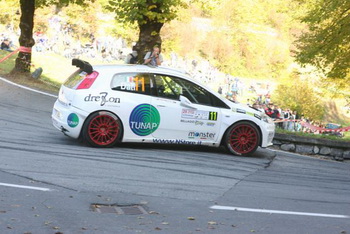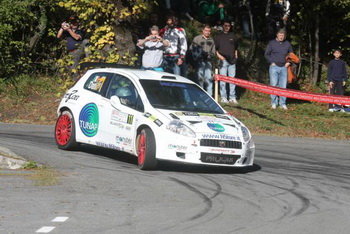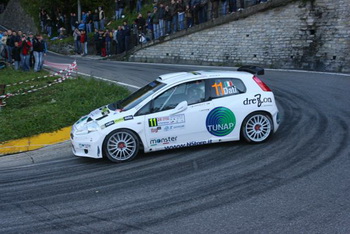 Italian Rally Championship Rd 9, Rally di Como - final classification: 1. Rossetti/Chiarcossi (Abarth Grande Punto S2000), 1hr 42min54.7s; 2. Travaglia/Granai (Peugeot 207 S2000) + 3.2s; 3. Cantamessa/Capolongo (Peugeot 207 S2000) + 54.0s; 4. Longhi/Imerito (Skoda Fabia S2000) + 1min00.4s; 5. Andreucci/Andreussi (Peugeot 207 S2000) + 1min18.6s; 6. Signor/Barone (Peugeot 207 S2000) + 1min39.7s; 7. Perico/Carrara (Peugeot 207 S2000) + 1min56.1s; 8. Dati/Tommaso (Abarth Grande Punto S2000) + 3min22.3s.
Italian Rally Championship - final standings (after 9 rounds): 1. Paolo Andreucci (Peugeot) and Luca Rossetti (Abarth) 66 points; 3. Renato Travaglia (Abarth, Peugeot, Skoda and Mitsubishi) 54; 4. Piero Longhi (Skoda) 23; 5. Alessandro Perico (Peugeot) 17
Italiaspeed TV:
Rossetti/Chiarcossi (Abarth Grande Punto) 28TH Rally di Como