Bron:
Italiaspeed.com
Pentti Airikkala 1945-2009.. R.I.P.
02-10-2009
Na een lang ziektebed, isPentti Airikkala, èèn van de bekendste Finse rally rijders overlden. Hij was èèn van de eersten die de 'leftfoot-braking' (remmen met de linkervoet) gebruikte. Hij reed voor diverse merken, maar was voornamelijk bekend als Vauxhall rijder, al maakte hij uitstapjes naar Lancia en Alfa Romeo (privé-teams). Vele legendes van vandaag hebben de grondbeginselen van het rally rijden in zijn rallyschool geleerd, zoals Colin McRae, Richard Burns, Mikko Hirvonen en Jari-Matti Latvala:
The rally world is in mourning with the sad news that one of its shining legends Pentti Airikkala, one of the finest of the breed of left-foot-braking "Flying Finns" that for so long made rallying at the very highest level their own, has passed away after a battle against illness. Airikkala finest moment came when he won the World Rally Championship-counting RAC Rally in 1989.
Airikkala kicked off his career with a string of wins in his native Finland land before he beat a path to the UK to develop his career. He won the Finnish Rally Championship for Drivers in the Group 1 class in 1974 and along the way he had his first brush with Italian rally machinery when he used an Alfa Romeo Giulia GTV supplied by the Finnish Alfa Romeo importer along with an Opel Ascona and Vauxhall Viva. That year he raced the importer's Alfa Romeo on the Wales Rally, finishing in a close second place to the winning Vauxhall Magnum and that result elevated him into a factory Vauxhall drive for the 1000 Lakes Rally where he won his class. The rest is history.
Driving for the Vauxhall factory team he became synonymous with the Chevette 2300 HS and took the British title in 1979. While Airikkala will always be remembered in the same breath as the Chevette, Italian rally enthusiasts can never forget the occasions when he brought his breathtaking style and put his Finnish left foot braking magic to work behind the wheel of the Lancia 037 Rally and Delta Integral on several occasions.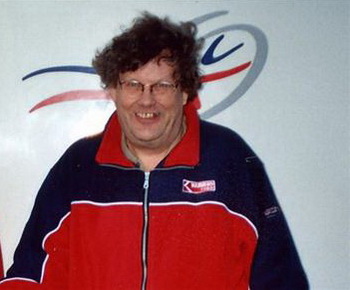 Pentti Airikkala 1945-2009.. R.I.P.
Airikkala's first outing in a Lancia came on the on the Circuit of Ireland in 1983, then an important fixture on the calendar. "Traditionally, Easter was the date for the Circuit of Ireland Rally," wrote Peter Collins in his definitive work on what was one of the most stunning machines to grace the rally tracks, Lancia 037: The Development and Rally History of a World Champion. "This was an international, and by far the most important event in the country. It lasted for four days and took in fifty-four stages in both Eire and Northern Ireland. By this time, the message was that the Lancia Rally was a potential winner almost anywhere. Finn Pentti Airikkala had managed to get hold of a full factory Evolution specification car from Turin with help from Lancar (the UK and Ireland Lancia importers) and the Belfast Herald newspaper. The car was TOX98907, chassis 301. Turin had sent two Italian mechanics to help out, and it was hoped that this would be the start of [a] longer relationship with Corso Marche.
"Despite little comment from most event reporters, Pentti brought 301 into parc ferme at the end of the first day in the lead. He suffered a problem next morning which led to a push start and a 30 second penalty, but was still ahead of the pack when the rally reached Dublin. On slicks in the wet he would later spin into a ditch, but he emerged still fifth at the end of the second day. Finally, fighting over third place on the last night, a patch of black ice caught him out. Later he said, 'The Lancia people were all charming, we had Italian, English, Irish and Finnish crew people but it all worked. The car was obviously very impressive and very exciting, just like a racing car. And it has got very good results, but to get good results first you have to finish!'"
Pentti then was drafted into the factory Lancia team to drive an 037 Rally alongside Markku Alen on the 1000 Lakes Rally a few months later, where he finished fifth. "After the rout that was Argentina, Lancia needed to be on top form in late August for the next round of the World Rally Championship, Peter Collins wrote in Lancia 037: The Development and Rally History of a World Champion. "This was the 1000 Lakes in Finland. Sergio [Limone] and the test team had spent some time in Karkilla in July, and all the pundits were expecting that the Martini team would win the event, but Markku [Alén] was quoted as saying he wasn't so sure as some new, tighter stages had been added at the end of the event and these would suit the Audis. The demon tweak of the event was to extend suspension travel downwards, so that the wheels would stay in contact with the ground for longer over the many yumps. This was another rally that [Walter] Rohrl had opted out of, so the line-up consisted of local boys Markku Alén, in TOX98907 (Airikkala's car from the Circuit of Ireland), chassis 301 with newly developed harder rear springs and softer fronts to help with the steering kickback, and newcomer Pentti Airikkala, in TOY88743, chassis 172, having his first taste of an 037 since the Circuit of Ireland. He had, apparently, changed 'a lot of things,' as his preference was for a car with hard front springs.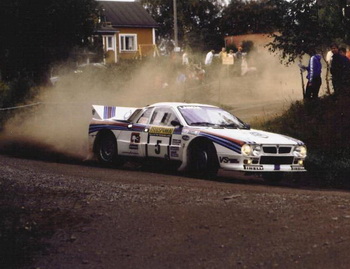 "Martin Holmes summed up the rally like this: 'Audi won, but how it struggled!' Hannu [Mikkola] had his front differential fail on the first stage, demoting him to 143rd, while Markku slugged it out with [Stig] Blomqvist. Hannu's comeback drive soon brought him back to the lead battle, but Markku was in one of his maximum attack modes and, oh so slowly, gradually eased out a 17 second lead at the end of the first day. Pentti had problems with an engine that would not run correctly after he missed a gear on the fourth stage. Eventually, after the start of the third leg of the rally, the unit started to ease up and allowed him to push for a better position in the top six."
A plan to run a private 037 Rally in the British Rally Championship two years later that was to be prepared by Turin-based Giuseppe Volta never came off, however in 1988 he drove a Safety Devices run Lancia Integrale on the Lombard RAC Rally where he finished fourth overall.
Airkkala's crowing achievement came when he won the 1989 RAC Rally in a factory GpA Mitsubishi Gallant. His drive had been a reward for winning the GpN class of the British Rally Championship that year and it remained his one and only win. His last WRC appearance came on the Rally GB in 2003 but by that point his rally school was developing a strong reputation and he was devoting more and more of his time to it. Stars to learn the dark arts of left foot braking at his rally school include British world champions Colin McRae and Richard Burns as well as current WRC Ford factory drivers Mikko Hirvonen and Jari-Matti Latvala.