Bron:
Italiaspeed.com
Rally versie van de Fiat 500, de 500 R3T
25-09-2009
Fiat introduceert een nieuwe uitvoering van de 500 Abarth, de 500 R3T, met 180 pk. Deze auto is puur bedoeld als promotie voor de 500 Abarth, net zoals er vroeger promotionele rally's werden gereden met bv de Autobianchi A112. Er zullen twee kampioenschappen worden gehouden, naar aanloop van de Trofeo 500 Abarth:
Abarth is introducing its latest racing gem at the 51st Rallye Sanremo today. The new Abarth 500 R3T will lend its name to a promotional rally trophy in 2010, due to join the two track championships (European and Italian) planned for the Abarth 500 Assetto Corse.
For Abarth, this marks a return to promotional trophy events, a niche it has made its own for more than thirty years. Since 1977, to be precise, when the first ever Autobianchi A112 Abarth Championship was held, followed by trophies for the Fiat Uno, Uno Turbo, Cinquecento, Seicento, Punto Kit and Super 1600, Stilo, Panda Kit.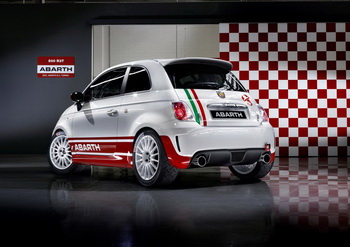 The Abarth 500 rally version will be type approved for Group R3T, the category for turbocharged cars up to 1600 cc in capacity. This class will be the future of the specialism because it represents a good compromise between car cost and performance. Ideal for private drivers and young people who want to show their worth in a true racing car, capable of outstanding performance by any standard.
The Abarth 500 R3T's power unit is 1368 cc with a Garret GT 1446 fixed geometry turbocharger capable of delivering a power of 180 hp (132 kw) at 5500 rpm. The gearbox is sequential, front meshing with 6 speeds and includes a multiplate self-locking differential, twin plate clutch and special half-axles. Great care has been taken to ensure the suspension can be adjusted to obtain a ride suited to each driver's individual driving style. The racing shock-absorbers are adjustable, with coaxial spring and wheel to alter the ground clearance plus special shims to adjust the caster and camber angles.
The 7" x 17" OZ asphalt rims are designed for 19/62-17 tyres. The Brembo brakes are all disc, ventilated at the front with 4 callipers, solid disc at the rear with brake distributor and governor. The handbrake is hydraulic. The Abarth 500 is equipped with a special welded roll-bar integral with the body, the required safety devices and FIA type-approved seats with 6 seat belt anchorage points. The weight is the lowest set by the regulations for this category: 1080 kg unladen.
Great care has also been taken over the details, beginning with a livery that is most decidedly in keeping with tradition, complemented by a lovingly crafted interior and instruments. The Abarth promotional trophy regulation and timetable will be circulated in the coming weeks.
Technical specifications Abarth 500 R3T
Engine
• Turbocharged Otto-cycle, 4 cylinders in line, 4 valves per cylinder, 1368 cm3
• Power: approx. 180 HP (132 kW) at 5500 rpm
• Peak torque: 300 Nm at 3000 rpm
• Garrett GT1446a fixed geometry turbocharger, 29 mm diameter intake restrictor
• Special reinforced water and air sleeves
Transmission
• 6-speed gearbox, front meshing with sequential control
• Multiplate self-locking differential
• 184 mm diameter metal-ceramic twin plate clutch
• Special half-axles
Suspension
• Front: MacPherson, special adjustable racing shock absorbers, coaxial spring with wheel for adjusting car height. Camber adjustable by means of shims
• Rear: multilink, special adjustable racing shock absorbers, spring with wheel for adjusting car height. Camber adjustable by means of shims
Steering system
• Electric power steering with racing setting
Brakes
• Brembo radial front calliper with four M4X40 pistons
• Ventilated Brembo front brake disc, 295 mm diameter x 28 mm
• Rear calliper with 36 mm piston
• Solid rear brake disc, 240 mm diameter x 11 mm
• Racing brake pads
• Hydraulic handbrake
• Brakeforce distributor and rear load proportioning valve to optimise car behaviour
Body
• Car dimensions: length 3657 mm, width 1627 mm, wheelbase 2300mm
Chassis
• Special welded roll-bar, integral with body
• Stripped interior, safety outfit
• FIA type-approved seats with 6 seat belt anchorage points
Wheels
• OZ 7"x17" asphalt rim
• 19/62-17 asphalt tyre
Weight
• 1080 kg minimum regulation weight plus equipment