Bron:
Italiaspeed.com
Doordat Giandomenico Basso geen kans meer maakte op een titel, heeft het Abarth team hem toestemming gegeven zich voor te bereiden op het FIA Europese rally kampioenschap.
Om het gat te vullen, heeft men voormalig WRC rijder Francois Duval ingehuurd om de rest van het IRC af te maken:
Former WRC star Francois Duval has been drafted into the Abarth squad in place of Giandomenico Basso to support Luca Rossetti's Italian title bid in a three car factory challenge for victory on the next round of the Intercontinental Rally Challenge (IRC), the 51st Rallye Sanremo, which also counts towards the Italian Rally Championship (CIR).
Asphalt specialist Francois Duval will return to the IRC with Abarth hoping to expunge memories of his disastrous appearance on home soil in June's fifth round of the IRC, the Belgium Rally Ypres when he crashed out on the first stage at the wheel of a Skoda Belgium-entered Fabia S2000. The 28-year-old star driver however has a strong record with the Super 2000 Abarth Grande Punto having piloted the car several times in the past two years and is looking forward to next weekend's tough event. Last time the Belgian appeared at the wheel of an Abarth Grande Punto, in the Rally Portugal last year, Duval was running a very strong second before crashing out.
Duval, who has one WRC win to his name, the Rally Australia in 2005, will become the fifth driver to compete at the wheel of the second works Abarth this year although for this event he is standing in for team leader Giandomenico Basso who will be in action on the calendar-clashing ELPA Rally in Greece as he chases his second FIA European Rally Championship title, his sole focus now that his hopes of securing the IRC crown are over. Regular driver Anton Alén has taken in a number of other events to broaden his experience, including the WRC counting Neste Oil Finland Rally at the end of July and last weekend contesting the most recent round of the CIR, the Rally Costa Smeralda. The Finn's absence has allowed Bernd Casier (Belgium Ypres Rally), Luca Rossetti (Barum Rally Zlín and Rali Vinho Madeira) and Manuel Fuster (Rally Principe de Asturias) the opportunity for works outings on the IRC.
Speaking to Autosport magazine this week, Duval said: "I'm looking forward to Sanremo, but it will be very difficult as there are going to be a lot of local specialists there. I will do my best, but there's no question of doing what happened in Ypres again." He also revealed that he will test the car this coming week prior to the event.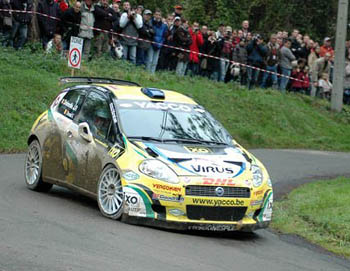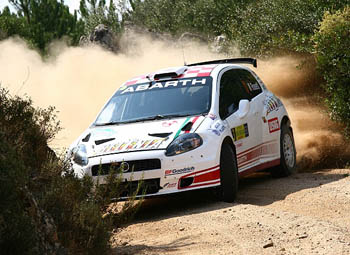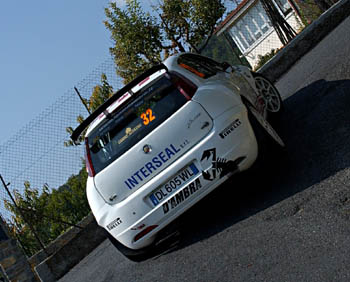 The 51st Rallye Sanremo is the tenth round of the IRC, although more importantly for Abarth who are already out of both the drivers' and manufacturers' title races, it will be the ninth round of the CIR and Duval will be looking to support Rossetti's flagging title hopes. The rally takes place next weekend (September 24-26) and will feature a total of twenty four Super 2000 machines heading the entry list. The formula, which has grown to be a huge success this year, as welll as the three Abarths, sees a works two-car squad from Skoda Motorsport for IRC championship contender Jan Kopecký and team-mate Juho Hanninen, the Peugeot UK entry of IRC points leader Kris Meeke and the Benelux Peugeots of Nicolas Vouilloz and Freddy Loix. In addition there will be the Proton of Guy Wilks, the Skoda Fabia of Julien Maurin and the Skoda Italia-entered Fabia of Piero Longhi. Luca Cantamesa holds the BF Goodrich Drivers' Team entry for the event - but confronts a total of 11 other privately-entered Peugeot 207 S2000 featuring still more Italian talent, aiming to make waves when the IRC stars join them on this most glamorous event. Three of the tried and trusted Group N Ralliart Evo IX cars will take on these normally-aspirated machines, with series regular Franz Wittmann joined by Simone Campadelli and Fabio Gianfico.
Duval will join Abarth's two regular CIR pilots, championship chasing Rossetti and youngster Umberto Scandola, in a trio of factory entries, the second consecutive rally that the Scorpion has expanded to three cars as it tries with all its might to get back into the title race. Finishing behind Paolo Andreucci (Peugeot 207 S2000) wasn't what Rossetti could afford on the last round of the CIR, the Costa Smeralda held last weekend, but that is exactly what happened after the Abarth driver punctured, and it meant that the gap at the top of the points leaderboard has extended from six to eight points in the Peugeot Italia driver's favour with just two rounds of the series remaining, starting with the 51st Rallye Sanremo. In between them in the points classification is Renato Travaglia but he is already having to drop scores and will have to do so as well on both the final rallies this year meaning that his chances of taking the crown are virtually non existent. In amongst a sea of Peugeots on the rally next week, there will be just one private Abarth Grande Punto entry to be driven by Alessio Pisi.
In the IRC 2WD Cup meanwhile a huge entry sees series leader Denis Millet joined by no fewer than five other Peugeot 207 RC cars as he bids to fend of the Fiat Punto S1600 of the flying Italian Manuel Villa on this, the penultimate round of the season. Villa meanwhile will be joined by another Fiat Punto S1600 in Sanremo, this example to be driven by Mauro Scotto, and Marco Cavigioli will ditch the Trico Motor Sport-run Abarth Grande Punto S2000 he has been campaigning sporadically this year to return to the wheel of the Fiat Punto JTD R3D he used with great success to clinch the inaugural IRC 2WD Cup last year, while Honda returns in strength to pick up on its impressive season so far, bringing guaranteed entertainment throughout the 109-car entry list. Towards the tail end of the field will be no less than five diminutive Panda rally cars (including a brace prepared to 'kit' format) while right at the very bottom of the lengthy entry list, seeded #108 and #109, comes a pair of diminutive Fiat Seicento Abarth Kit runners that will be aiming to turn back the clock, and rally fans will look forward with relish to giant-killing performances from all these tiny cars.
Italian Rally Championship provisional standings (after 8 rounds): 1. Paolo Andreucci (Peugeot) 54 points; 2. Renato Travaglia (Abarth, Peugeot; Skoda and Mitsubishi) 52; 3. Luca Rossetti (Abarth) 46.