Bron:
Italiaspeed.com
Rosetti ziet titel langzaam vervliegen door pech in e Rally Costa Smeralda
14-09-2009
Luca Rosetti had gehoopt een voorsprong te krijgen in het Italiaanse rally kampioenschap, mede door het overkomen van gravel specialist Anton Alén.
Helaas werden de goede resultaten teniet gedaan door pech, iets wat het Abarth team continu achtervolgt. Door een lekke band, die voor schade zorgde en technische problemen, konden de Abarth rijders de eerste plaats niet meer behalen en moest Rosetti genoegen nemen met een twede plaats, ruim anderhalve minuut achter de Peugeot van Andreucci:
Luca Rossetti lost more points to his Italian title rival Paolo Andreucci on the 28th Rally Costa Smeralda at the weekend after a puncture ended his chances of victory and he came second; it was a result that he simply couldn't afford and sees the crown slipping further from his grasp.
To boost Rossetti's flagging title hopes, Abarth drafted in gravel specialist Anton Alén who has been dropped from the Intercontinental Rally Challenge programme but is fresh from a morale boosting second place on the WRC counting Neste Oil Finland Rally for the 28th Rally Costa Smeralda, the eighth round of the 2009 Italian Rally Championship (CIR). He joined Rossetti and youngster Umberto Scandola in a three car challenge that would try to close the gap to the championship leading Peugeot 207s of former Fiat/Abarth drivers Paolo Andreucci and the outsider for title glory Renato Travaglia.
The 28th Rally Costa Smeralda though lived up to its reputation for being a tough race with its gravel roads just about impassable. With Friday night's opening superspecial stage cancelled, the action proper got underway on Saturday morning with the 10.39 km long SS2, the first of nine stages that would decide the winner of this year's 28th edition. Alén, who drove on this rally for Abarth two years ago, got off to a great start posting the fastest time on SS2 to move into a 4.1 second lead of the rally ahead of Andreucci, while Rossetti was a further one second back. The next stage (SS3) saw Andreucci go fastest, 2.1 seconds ahead of title rival Rossetti with Alén 4.6 seconds off the stage winning time. It meant that the Peugeot Italia driver moved into the lead of the rally with 0.5 seconds in hand over the young Finn and it was to be a lead he wouldn't relinquish to the finish line.
The third stage of the day (SS4) again saw Andreucci fastest ahead of Rossetti (+0.7 seconds and Alén (+3.1 seconds) to open his lead out to 3.6 seconds over the latter while Rossetti was now just 0.2 seconds off his draft-in team mate. SS5 saw the crews kick off a second run of the morning's three stages and Alén went fastest, his second in four stages, to take 1.6 seconds off Andreucci and close the gap to 2.0 seconds while Rossetti was third quickest and was now 5.1 seconds off the rally lead.
The next test (SS6) saw the rally now past the half way point and completing its second loop of the day's three tests, and Rossetti really started to burnish his title pretensions: he went fastest, slicing 3.6 seconds out of the rally leader who was the second-quickest through the 15.68 km second running of SS3. With Alén dropping 13.6 seconds it meant the Italian Abarth driver moved above his Finnish team mate in the classification to second overall and close the gap to Andreucci to just 1.5 seconds with four stages to go. Meanwhile Scandola in the third factory Abarth entry, after a slow start on the first stage of the day (SS2) where he posted only the seventeenth quickest time had reeled off three lower top-10 times and had climbed up to eighth place overall.
On SS7, the second loop of Vino Siddaju-Olba saw it all go horribly wrong for the Abarth team as Alén, who had Timo Alanne alongside in the co-driver's seat as usual, hit an object on the 15.44 km long stage and retired while Rossetti dropped 12.6 seconds to stage winner Andreucci although with the blistering pace that these two were setting he was still second fastest. However the puncture damaged the Abarth Grande Punto's steering and repairs after the stage landed him with a 1 minute and 20 second penalty to drop him right out of contention. To make matters even worse for the Abarth team technical issues had sidelined Scandola and co-driver Guido D'Amore on the road section up to that stage.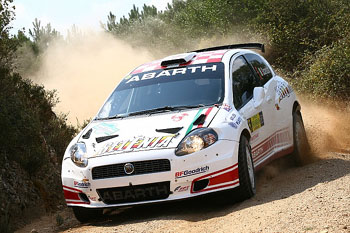 As the rally shook up after the disastrous SS7 for Abarth, and with four stages to go, Andreucci had a 1 minute and 34.1 1 second lead over Rossetti going into SS8 as the cars began the third loop of the three stages and barring any problems for the Peugeot driver it was all over. The two leading drivers backed off now although they still went first and second fastest through SS8, Andreucci 0.8 seconds ahead of Rossetti, and it was the same story on the penultimate stage of the rally, SS9, where the Peugeot driver was 0.6 seconds ahead of his Abarth mounted title rival. Rossetti went fastest on the final stage, his second top scratch time of the rally but it was small consolation as he finished second with a gap to his rival of 1 minute and 22.3 seconds.
Finishing behind Andreucci wasn't what Rossetti could afford in Costa Smeralda and it means that the gap has now extended from six to eight points in the Peugeot Italia driver's favour with just two rounds of the series remaining. In between them in the points classification is Travaglia (52) but he is already starting to have to drop scores and will have to do so as well on both the final rallies this year meaning that his chances of taking the crown are virtually non existent.
The next and penultimate round of the Italian Rally Championship is the Rally Sanremo, which is scheduled from 24-26 September. The final round will be in Como.
Italian Rally Championship Rd 8 - 28th Rally Costa Smeralda classification: 1. Andreucci/Andreussi (Peugeot 207 S2000) in 1hr 27min12.8s; 2. Rossetti/Chiarcossi (Abarth Grande Punto S2000) + 1min22.3s; 3. Travaglia/Granai (Peugeot 207 S2000) + 2min39.9s; 4. Campedelli/Fappani (Mitsubishi Lancer) + 2min42.3s; 5. Navarra/Cerrai (Subaru Impreza) + 3min23.4s.
Italian Rally Championship provisional standings (after 8 rounds): 1. Paolo Andreucci (Peugeot) 54 points; 2. Renato Travaglia (Abarth, Peugeot; Skoda and Mitsubishi) 52; 3. Luca Rossetti (Abarth) 46.