Bron:
Italiaspeed.com
Succesvolle laatste dag van Rally Principe de Asturias voor Basso
12-09-2009
Giandomenico Basso haalde wat schade in op de laatste dag van de 45e Rally Principe de Asturias, waarmee hij een nipte voorsprong kreeg op de Skoda's. De eerste special stages werden door Basso gewonnen, maar later moest hij genoegen nemen met een tweede en zelfs derde plaats, maar uiteindelijk wist hij, door pech bij de Skoda's, zich naar een overwinning te rijden:
Giandomenico Basso goes into the final day of the 46th Rally Principe de Asturias, the ninth round of the Intercontinental Rally Challenge (IRC) with a slender lead at the front after a fast and furious final few stages that saw the factory Abarth pilot wrest the advantage away from the Skoda drivers. Basso – who won this event in 2008 – will set off this morning into the second leg's final loop of six stages with an 8.2 second advantage over local hero Alberto Hevia's Skoda Fabia S2000.
The Italian was in the thick of action all through yesterday' opening leg, never posting a time outside the top-three, and starting off on the short SS1 first thing in morning with second quickest time. Second quickest on SS2 however bumped him down a place to third overall although a third fastest scratch time on SS3 saw him back into second place as the Peugeots in particular see-sawed on the time sheets following issues with the Super 2000 207s that saw then collecting punctures. Third quickest for Basso on SS4 dropped him back down to third overall. Basso went third fastest on SS5 to hold station before posting his first fastest time of the day on SS6, although it still kept him in third place.
The experienced Italian turned in another fastest time on SS7 and this dramatically handed him the rally lead, and while SS8 was cancelled, third fastest on the last stage of the day (SS9) saw Basso go into overnight parc ferme with 8.2 seconds in hand over Hevia. Hevia, returning to top-flight competition after almost a full year out, has been a revelation throughout the weekend and was Basso's key challenger for the rally lead all day. However the Skoda driver struggled with mechanical difficulties in the last two stages of the day and this helped Basso cement his advantage. Winning day one also helped Basso in his push for FIA European Rally Championship points as these are handed down at the end of each day to the top-three registered drivers in the order of 3-2-1 points and with Corrado Fontana (Peugeot) squeezing ahead of championship points leader Michael Solowow (Peugeot) it means Basso chips two points off the Pole's advantage.
Basso's team mate for the event, Miguel Fuster, who had been drafted into the factory squad for this rally to provide his local knowledge and experience (he is a former two-time Spanish Rally Champion and Abarth Grande Punto regular) had little luck on the opening leg. He had settled in nicely with sixth quickest time on the first stage, but on SS2 he suffered brake failure on the stage which ran from Pajonal through Carbayín to La Rasa and he crashed, blocking the stage which was cancelled. Fuster's departure left Basso as the only Abarth Grande Punto S2000 still remaining in the rally.
In third place overnight and closing in fast on the top two is the factory Skoda of Czech driver Jan Kopecký, who needs to maximise his points haul in Asturias as 2009 IRC title rival Kris Meeke struggles to win back time lost to a puncture in his Peugeot UK-entered 207 S2000. The gap between the two men is down to three points after Kopecky's rapturous home victory in the Czech Republic last month, and both Basso and Freddy Loix remain in striking distance of the title as well.
Fontana holds fourth place overall at the overnight halt after the Proton of Guy Wilks suffered a transmission problem at the start of SS9 and picked up a puncture while driving through the stage. Meanwhile both of the Benelux Peugeots of Loix and defending IRC champion Nicolas Vouilloz have joined Meeke in being slowed by punctures. The final IRC points-winning position is also held by a Peugeot driver at the overnight halt, as Solowow chases the top men.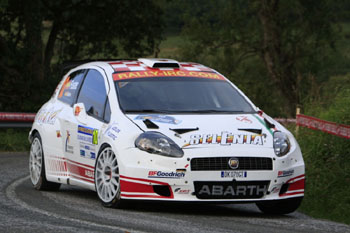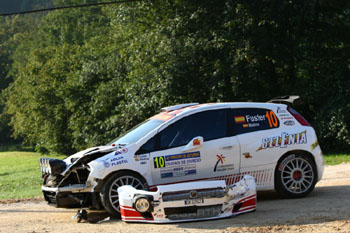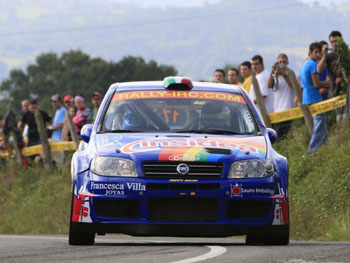 In the IRC 2WD Cup, Denis Millet has consolidated his early lead to stand 36.8 seconds clear of title rival Fiat Punto S1600 driver Manuel Villa but the end of the first leg, bolstering Peugeot's chances in the manufacturers' standings. Millet drew first blood on SS1, taking the stage by 9.3 seconds from his Italian rival. On SS2 the stage-blocking accident of Fuster ensured that neither driver could post a time, then on SS3 Villa blasted back to take the lead by 1.4 seconds. Millet then went through SS4 a full 16 seconds quicker than Villa, who responded by taking almost 5 seconds out of the Frenchman's advantage on SS5 and clawing back a further 1.8 seconds on SS6 and then 1.3 seconds on SS7. SS8 was cancelled but on the final stage of the day, SS6, Millet went through a disheartening 20.5 seconds faster than Villa to extend his advantage to more than half a minute.
Six more special stages will form today's closing day before the surviving crews return to the host city of Oviedo at 16:00 CET.
46th Rally Principe de Asturias - provisional positions at the end of Leg 1:
1 Basso (I) – Abarth - +1hr 40m 15.9s
2 Hevia (E) – Skoda – +8.2s
3 Kopecky (CZ) – Skoda - +10.4s
4 Fontana (I) – Peugeot - +2m 15.3s
5 Vouilloz (F) – Peugeot - +2m 27.3s
6 Loix (B) – Peugeot - +2m 50.0s
7 Meeke (UK) – Peugeot - +3m 2.9s
8 Solowow (PL) – Peugeot - +4m 9.3s