Bron:
Italiaspeed.com
Luca Rossetti 3e in4 5e Rally del Friuli e delle Alpi
30-08-2009
Ondanks een dominerende openingsronde in de 45e Rally del Friuli e delle Alpi, slaagde Rossetti er niet in met zijn Abarth de leiding te houden, door een lekke band en een slippartij. Hierdoor kon hij de leidende Peugeots niet meer bijhouden en ging voor een derde plaats:
Despite dominating the opening day of the Rally del Friuli e delle Alpi Orientali factory Abarth driver Luca Rossetti slid backwards on day two to finish behind both his Peugeot-mounted title rivals and concede more ground in the Italian Rally Championship points race.
The opening day of the 45th Rally del Friuli e delle Alpi Orientali, the seventh round of the Italian rally championship (CIR), on Friday had started very well for Rossetti and his co-driver Matteo Chiarcossi in their Abarth Grande Punto S2000. They went fastest on the first three stages to open up a clear lead and followed that up with fourth quickest time on the penultimate stage of the leg and then a dead heat best time on the last of the five tests. It all left Rossetti, who counts this as his "home" rally and won here last year, to go into overnight parc ferme with an 8.7 second lead over former Fiat factory driver Paolo Andreucci (Peugeot 207 S2000) and 10.7 seconds over privateer Renato Travaglia in a similar French machine.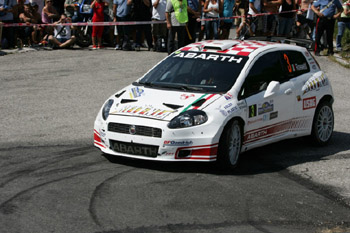 Both these drivers went into the rally sitting above Rossetti in the title chase and the Abarth pilot, who is the reigning European Rally Champion, needed to claw points back on this event having been bettered by Andreucci in particular last time out, agonisingly so as he had been in command until a puncture had cost him a certain win. In fourth place overnight, and 13.7 seconds back, was Umberto Scandola, with Guido d'Amore alongside, in the second factory Abarth entry; the young driver had been in second place until the penultimate stage. Another youngster, Marco Signor, was doing very well too in his private Abarth Grande Punto S2000 and he led the Under 23 category overnight having finished the day in an impressive seventh place overall.
While the opening day had been dry, yesterday's second and final day saw rain and changing conditions, and on the first test of the day's six stages (SS6) Rossetti had a spin which cost him 25 seconds to Andreucci who posted the quickest time. It immediately turned the leaderboard on its head and left the Peugeot Italia driver with a 16.3 second advantage at the front while Travaglia was breathing down Rossetti's neck as he was just 0.2 seconds behind. With his car clearly no match for his rivals in the wet conditions, Rossetti lost 19.1 seconds on the second stage of the day (SS6) and with fastest time this time going to Travaglia the Abarth driver was pushed down to third place.
Unable to match the pace of the leading duo Rossetti settled for conserving third place, dropping more time to his rivals on the closing stages to finish the rally over a minute behind Travaglia who wrestled his was past Andreucci on the penultimate stage to take his second win of the year. The two Peugeot pilots had in fact gone into the last stage spilt by just 4.6 seconds but a mistake by Andreucci which resulted in a damaged wheel cost him 10 seconds to Travaglia and put the result beyond doubt.
Scandola maintained his fourth place throughout the final day, riding shotgun to team mate Rossetti, however his accident-prone ways continued on the final stage when he retired after suffering damage. Overnight leader in the under-23 category, Signor, also dropped out on the last leg.
In the championship title race third place means Rossetti has lost precious ground to both his rivals and is now eight points adrift of Travaglia and six behind Andreucci. Travaglia, who has driven no less than four different cars so far this year, has scored points in all seven events, and with the series only allowing the best of seven scores, it means he will have to drop points during each of the final three rounds. Rossetti and Andreucci both sat out the first two rounds which were boycotted by the manufacturer supported teams (Travaglia collected fourteen points from these events) and the former has one win, two second and two third places while the latter has edged ahead thanks to two wins and three second places. Both driver has two more scoring events before they have to drop points. The second factory Abarth of Scandola has made little contribution to the Scorpion's challenge on the CIR this year and he has amassed just 7 points so far.
The next round of the Italian Rally Championship will be the Rally Costa Smeralda which takes place in Sardinia on 12-13 September. The final two rounds of the ten round series this year will take place in Sanremo and Como.
Italian Rally Championship, Rd 7 - 45th Rally del Friuli e delle Alpi Orientali - Final Positions: 1. Travaglia/Granai (Peugeot 207 S2000) in 2hr 12min16.7s; 2. Andreucci/Andreussi (Peugeot 207 S2000) + 14.6s; 3. Rossetti/Chiarcossi (Abarth Grande Punto S2000) + 1min03.1s; 4. Perico/Carrara (Peugeot 207 S2000) + 2min08.6s; 5. Medici-De Luis (Peugeot 207 S2000) + 2min25.9s.
Italian Rally Championship Drivers' standings (after 7 of 10 rounds): 1. Renato Travaglia (Abarth, Peugeot, Skoda and Mitsubishi) 46 points; 2. Paolo Andreucci (Peugeot) 44; 3. Rossetti (Abarth) 38.