Bron:
Italiaspeed.com
Rossetti pakt 4e ERC titel voor Abarth
29-10-2011
Rossetti heeft afgelopen weekend de 4e ERC titel voor Abarth weten binnen te halen, waarmee tevens een einde komt aan de Grande Punto S2000. Deze kan zich nu scharen in het rijtje Fiat 131, Lancia Delta Integrale, Lancia Stratos en meer van deze legendarische Fiat Groep rally kanonnen. Het winnen van het Europese Rally Kampioenschap ging niet zonder slag of stoot. De S2000 Punto maakte gebruik van Alfa's 2 liter motor en een Alfa versnellingsbak, die sneller sleet dan de wagen naar de finish kon komen. Des te meer respect voor deze wagen, die Abarth weer op de kaart heeft gezet:
Luca Rossetti and Matteo Chiarcossi have powered the Abarth Grande Punto S2000 to the 2011 FIA European Rally Championship (ERC) title – the Scorpion rally machine's fourth – after he finally moved into an unbeatable position in the title race on this weekend's final round, the Rallye International du Valais. Impressively, this is the Abarth Grande Punto's fourth ERC title, sealing its name in the history books as yet another highly successful rally winner from the Fiat Group, placing itself alongside cars such as the Fiat 131 and Lancia's Stratos, 037 Rally, Integrale and Delta S4.T
he first ERC title for the Abarth Grande Punto came in the hands of factory driver Giandomenico Basso in 2006, the first year that the exciting new breed of Super 2000 cars arrived on the rally scene. This was followed by a second European crown for Basso in 2009, again in a factory-supported Grande Punto. Last year Rossetti took over ERC duties and successfully defended the trophy. Collecting this year's title makes it four for the Grande Punto in the ERC, with the last three coming consecutively, while it also makes it a trio of titles for Rossetti (his first came in 2008 at the wheel of a private Peugeot 207 S2000). Rossetti also becomes the first driver to claim three ERC crowns. The ERC is an important international motorsport series boasting the one of the longest traditions: the first edition dates back to 1953 while the FIA World Rally Championship has only been held since 1973. Luca Rossetti said: "I dedicate the victory to Ing. Wester (CEO of Abarth) who has always believed in me, and to all the people at Abarth. I am proud to have won this title with an Italian car. For me it is an honour to race with them, I hope with this win to have repaid them for their trust. Our season has been troubled as we have sometimes had problems, but this only gives a better taste to the result we obtained. I thank all those who contributed to this success, and in particular Michelin and United Business, who has been taking care of my sports management for years."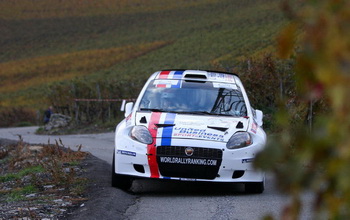 Rossetti came into the Swiss rally needing to collect just four points, but with his only rival Luca Betti now enjoying factory Peugeot support in his 207 S2000, the Scorpion driver couldn't afford any slip-ups. The short opening leg comprised of three stages and saw 'Rox' second-quickest on SS1 before going fastest on SS2. On the final stage of the day, however, the Grande Punto's long-time bugbear reared its head, as the gearbox broke just 2 km from the end of the stage. Rossetti was still fourth-quickest though, and in fact placed ahead of Betti in the scratch times. That meant that the Italian went into parc ferme in second place second overall, but leading the ERC standings with 20 seconds in hand over Betti. That gave the Abarth pilot the day's vital maximum points score, with Betti second in the ERC rankings but down in sixth place overall. On Leg 2, Betti put himself straight out of the rally picture, retiring before the start of the day's first stage (SS4), while Rossetti was now free of point collecting requirements and able to chase outright victory. He started the day 2.4 seconds behind Swiss driver Ivan Ballianari (Peugeot 207 S2000) and immediately went a staggering 28.4 seconds quickest in SS4. With Ballianari suffering a puncture, Rossetti was handed a 29.3 second lead over Switzerland's Laurent Reuche (Peugeot). However, barely had Rossetti stopped the time clock on the stage when his rally was over. "We lost the alternator belt strainer and this left us without alternator and without power-steering on the road section after SS4", said the new European Champion. "It's a real pity because we had set a good time in the stage and now that the European Championship is over, we wanted to celebrate our title with a win here. However, I will stay here for Saturday's big party!"
A fourth European crown for the Abarth Grande Punto brings down the curtain on this car's successful career in some style. The first of the new-generation 'Super 2000' cars out of the blocks in 2006, it was devised in the early stages of these regulations when lower cost was the motivating factor, with later arrivals such as the Peugeot 207, Skoda Fabia and Ford Fiesta more pure rally machines. The Grande Punto was always stymied in particular by having a version of the 2.0-litre 4-cylinder engine that Alfa Romeo had campaigned in touring car racing, leading to a weakness in the grunt department that stood starkly in contrast to the long-time values of the Abarth brand. It also chewed through gearboxes at a ferocious rate. Always at most at home on fast, smooth asphalt, it has an enviable record on events of this type such as the Rali Vinho da Madeira. However, all that said, the Grande Punto S2000's overall winning record has been highly impressive. It kicked off by winning the inaugural Intercontinental Rally Challenge (IRC) title on its rallying debut year in 2006. That title was won by Basso, who also claimed the ERC crown that same year. At the same time, Paolo Andreucci wrapped up the Italian Championship (CIR), to give the Grande Punto three major titles in its first season of competition. In total the Grande Punto won one IRC crown (Basso 2006), two CIRs (Andreucci 2006 and Basso 2007) and four ERCs (Basso 2006/2009 and Rossetti 2010/2011).
However, having suffered from a lack of development in the last few years, the Grande Punto has been winding down to its career end, a trend shown most graphically in the CIR this year. The Super 2000 machine has really shown its age in this arena, with Rossetti in a factory-supported example utterly outclassed by former Fiat works driver Andreucci (Peugeot) who was untroubled in winning the first six rounds and wrapping up the eight-round 2011 championship in record time. In the end Rossetti picked up just one consolation win, compared to Andreucci's seven victories.