Bron:
Italiaspeed.com
New Fiat Linea One Make race series gets underway in Argentina
16-04-2009
The latest debut of a one make race series to feature an Italian car being pitted against the demands of the race track took place when 22 cars headed onto the Autódromo Oscar de Cabalén near Córdoba in Argentina for the first round of the Fiat Linea Competizione.
Created on the occasion of Fiat's 90th anniversary in Argentina, the inaugural Fiat Linea Competizione will provide a level platform for upcoming racing drivers and as it is supporting the national touring car championship, TC2000, all year it guarantees plenty of key exposure.
FS Motorsport has prepared the identical-specification racing cars. The Fiat Linea Competizione racer is powered by the production model's 1.9-litre 16v engine with 150 bhp in this application and a resulting top speed on track of 200 km/h. The cars' preparation and all the logistics of the new division will be undertaken by the FS Motorsport firm. The presence of the Fiat Linea racing cars in this new division is being sponsored by well-known firms: Petronás, Selenia, Lo Jack, Logistech, FTP Powertrain Technologies and Fiat Crédito. The cars run on a control tyre supplied by Pirelli.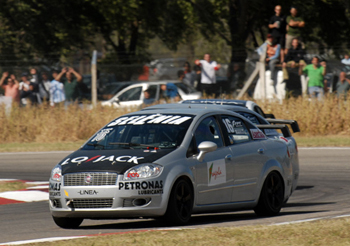 Twenty two cars lined up on the grid at the Autódromo Oscar de Cabalén for round one which would be contested for 20 minutes over 10 laps (40.450 kms) and in front of the 20,000 spectators that had turned up to watch the opening TC2000 round. The drivers lining up on the grid were a mix of professionals and amateurs and included former pilots Angel Monguzzi and Paco Mayorga, as well as the President of Fiat Auto Argentina, Cristiano Rattazzi, who has been a driving force behind the Fiat Linea Competizione.
The new concept worked very well with an exciting race full of thrills and spills and with victory eventually going to Federico Braga who completed 20 laps at the warm and dry the Autódromo Oscar de Cabalén in 20 minutes and 05.260 seconds. Second place went to Fabian Taraborelli who finished just 0.348 seconds adrift while in third was Angel Monguzzi (+2.7 secs). Other notable finishers included Rodolfo Constantini (+15.809 secs) in 11th place. Cristiano Rattazzi completed 7 laps while Paco Mayorga was out after 4 laps. Fastest lap was posted by Cristian Confetti in 1 minutes 59.620 seconds (127,735 km/h).