Bron:
Italiaspeed.com
Maserati Quattroporte revs up for Superstars race debut at Imola
14-04-2009
The Maserati Quattroporte will be seen in racing action this weekend when the super-sedan prepared by Swiss Team joins the Italian Superstars championship for its first round at Imola in the hands of former F1 racer Andrea Chiesa. It is a prestigious new entry that joins the list of Superstars Series contestants for 2009 that includes BMW M5, Mercedes-Benz C63, Audi RS4, Jaguar S-Type R and Chrysler 300C STR8. Chiesa, who has built up plenty of experience in sports car racing since his brief F1 career faded out, except for a few fleeting appearances, will be for the first time in his career at the wheel of a touring car.
Swiss Team is based in Lugano and headed by the experienced Guido Bonfiglio. Set up at the end of 2008 but with a twenty-year background in motorsport, the team aims to line up with a second car in the Superstars series, which is reserved for V8 engined touring cars, during this season, with another driver of proven experience in the pipeline. Amongst the team members is chief mechanic, Giovanni Albertin, a rally engineer since the first half of the seventies and more recently involved with several key roles in Ferrari Challenge and in GT series both in Italy and abroad.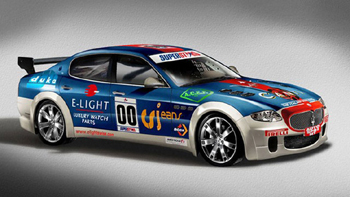 "Ours is a triennial program, mainly supported by E-Light sponsor," explained Guido Bonfiglio. "The choice to take part in Superstars series championship originates also from the fact that in this category the public is directly involved, because it is induced to identify its own every day car with those on track. The idea, after first races, is to line up a second car too. We favoured the Quattroporte pushed by Maserati, also if we will have to work at once on weight distribution and reduction. Sadev is developing expressly for us a sequential gearbox."
Andrea Chiesa, born in 1964, competed in three grands prix with Fondmetal-Ford in 1992, but claims also a glorious past in F3 (in which he distinguished himself in 1987 by taking the runner-up spot in the Italian F3 Championship) and in F3000 in which raced for three years, with his highlight being winning the Mediterranean Grand Prix on the Enna-Pergusa track in 1989. After leaving single-seaters, more recently he was crowned Italian N-GT champion in 2004-2005 and took also part in several editions of the Le Mans 24 Hours.
"Superstars has grown year by year thus becoming, in my view, a valid alternative to GT," stated the experienced driver. "Both related to more affordable costs and for the appeal resulting from the presence of many models in addition to an attractive international openness and media coverage. For 2009 I can only say that, with the exception of the circuits, we will have to discover time by time almost everything. I haven't seen the car yet and both I and the team will be able to have an idea of the available car potential only when we will bring it on track. The objective is to reach a good level of competitiveness and reliability which for sure are not missing to the others, being present in the championship since long time. The occurrence of driving again a rear drive car encourages myself because I'm convinced that the kind of driving won't be so different from that of GTs I had in my hands in the last years, besides of course the dimensions, the weight and the aerodynamic load. Further on, speaking about the team, I already knew the people working on this project and their soundness. All this will allow me to face my coming commitment with more tranquillity."
The Maserati Quattroporte in a rear drive car with a front mounted V8, 4.200 cc engine able to develop about 450 HP in the racing version. The weight, without the handicap due the use of a sequential gearbox (a Sadev fitted at the rear) is 1.430 kg. Tyres are supplied Pirelli, according to regulations, while the bodywork, for an explicit choice, mirrors almost totally that of the road version with just a few small aerodynamic changes. The team will make its debut at Imola this weekend for the first round of Superstars on April 19.