Bron:
Italiaspeed.com
Alfa Romeo in Bathurst diesel domination
23-02-2009
Alfa Romeo has, once again, proven the performance, durability and reliability of its advanced Turbo Diesel engines with its cars totally dominating the diesel class in the WPS Bathurst 12 hour race at the weekend (22 February 2009), with the Alfa Romeo 159 JTD 2.4 taking the large diesel category prize and the Alfa Romeo 147 JTD 1.9 coming home first in the small diesel category.
Driven by Kean Booker, Rocco Rinaldo and David Stone, the Alfa Romeo 159 JTD 2.4 completed 208 laps of the demanding Bathurst track, a total of nearly 1300 km in 12 hours, while the Alfa Romeo 147 JTD 1.9 of David Filipetto, Nathan Gotch and Wayne Vinckx covered nearly 1,000 km during its 156 lap run in the race.
As would also be expected of Alfa Romeo's advanced turbo diesel engines, fuel economy was also a strong point, with the Alfa Romeo 159 averaging, despite full race conditions, 17.1 l/100 km and the Alfa Romeo 147 logged a remarkable fuel consumption of 13.2 l/100 km. Completing one of the longest stints, David Stone drove the Thomson Alfa 159 for nearly three hours on one tank of fuel without even the fuel warning light coming on, while some petrol engined cars had stopped as many as two times for fuel during the same time.
The Alfa Romeo 159 – a completely road standard car – also had an opportunity to demonstrate the safety of its chassis. Driver Kean Booker takes up the story. "In the middle of the race there were lots of accidents and these left a lot of debris on the track," he explains. "I was coming down Conrod straight in excess of 210 kmh when some of this debris sliced through the front tyre just I was turning into the Chase, the fastest corner on the track. The tyre disintegrated, but thanks to the amazing chassis in the 159, not only was I able to avoid an accident, I managed to get the car back to the pits where out technicians had me back on the track in minutes. Had it not been for this, we would have also done the one race on one set of tyres, as we changed the tyres only as a precaution after the debris problem!"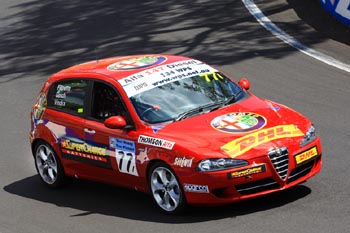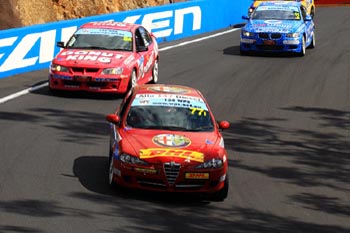 Servicing was kept to a minimum – no oil was used during the race, the car ran on the standard brakes and the Alfa Romeos completed the event with so little stress that the drivers were even using the air conditioning in the cars to keep their cool while so many drivers around them lost there's. Alfa Romeo is becoming a serial winner at Bathurst, with the 147 JTD taking its class in last year's event and in 2007 the 159 JTD 2.4 took its diesel class.
The Alfa Romeo team is backed by Sydney dealer Thomson Alfa, SuperCharge Batteries, DHL and Selenia Oil. "Once again Alfa Romeo has proven its unique combination of performance and durability on one of the toughest race tracks in the world," says David Stone. "We look forward to returning next year to make it four years of Bathurst Alfa Romeo success!"