Bron:
Italiaspeed.com
Andersson wederom indrukweekend in de Alfa 156
04-10-2010
De Alfa 156 weet van geen ophouden! Qua leeftijd allang met pensioen, maar toch zijn er hier en daar nog privé-rijders die in een 156 meedoen aan een toerwagen kampioenschap. Mattia Andersson is hier al eerder voorbij gekomen en ook afgelopen weekend wist hij in Mantorp Park, vlakbij Mantorp (Mjölby, Zweden) een overwinning te behalen. Hoewel hij niet het kampioenschap won, was hij zeer tevreden over de auto.
En dat mag ook wel, want meedere malen liet hij nieuwere en snellere auto's achter zich en wist zelfs regelmatig op het podium te komen. Dit weekend had hij de snelste tijd in de kwalificatie, waardoor hij vooraan mocht starten. Die plek liet hij gedurende race 1 niet van zich afpakken en eindigde dus als eerste. De tweede race ging minder, dankzij het bekende systeem van snelste man van race 1 start achteraan en langzame rijders vooraan. Helaas viel hij na een paar rondes ook uit, maar al met al was hij zeer tevreden:
The fearsome Alfa Romeo 156 simply refuses to grow old and bow out of top-level racing gracefully and the legendary tin top racer was back at the front over the weekend sweeping to pole and victory in the final round of the highly competitive Swedish Touring Car Championship.
Against much newer and much more developed touring car racing machines from the likes of BMW, VW, SEAT and Volvo, Mattias Andersson in the beautiful MA:GP-run Alfa Romeo 156 'Super Touring 2000' (a car formerly used by Alfa Romeo factory driver James Thompson) was in commanding form at Mantorp Park over the weekend for the series' final round of the year at the wheel of a racing car that has long since entered the history books as one of Alfa Romeo's greatest track legends.
The Alfa Romeo 156 first hit the track in anger more than a decade ago and in the hands of the official factory team, run through the N.Technology outfit, it claimed huge successes, the "Super Touring 2000" category car winning race after race in the FIA European- and World-Touring Car Championships with world-class tin-top drivers such as Fabrizio Giovanardi, Gabriele Tarquini, Augusto Farfus, Roberto Colciago and James Thompson. Today the Alfa 156's glories on tracks such as Silverstone, Monza, Pau, Imola, Brno, Brands Hatch and Spa-Francorchamps have been virtually consigned to the pages of history books, with just a handful of privateer-run machines still in race action. The most-competitive Alfa 156 still to be racing though is the example driven by Andersson in the hotly-contested Swedish Touring Car Championship (STCC)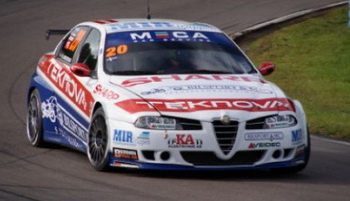 Andersson has already tasted victory this year in the Alfa 156 as well as making further trips to the podium and the Swede has remained amongst the front runners in the championship going into the weekend's double header, the ninth and final round of this year's STCC, although not being within a shout at the title. Having set third fastest time in the morning practice session (just 0.085 seconds off the fastest time) Andersson wasn't headed in the Q1 qualifying round, planting the stunning #20 red-white-and-blue Alfa 156 at the top of the time sheets, just 0.036 seconds ahead of STCC title-chasing Robert Dahlgren (Volvo Olsbergs Green Racing/Volvo C30) and the similar Swedish machine of Dahlgren's team mate Tommy Rustad who was in turn 0.179 seconds adrift of the Alfa Romeo. That perfectly set Andersson up for Q2 qualifying and he continued his scintillating form, posting the fastest time of the session on only his third lap to claim pole, 0.179 seconds ahead of Thed Björk (Flash Engineering/BMW 320si) who was the Alfa driver's target in his quest for fourth place in the final STCC standings. Row 2 was shared by two of the title contenders: Dahlgren and Richard Göransson (WestCoast Racing BMW Dealer Team/BMW 320si) who would start their showdown side-by-side.
In race one Andersson was unstoppable and after 14 laps and 23 minutes and 32.941 seconds of hard-fought racing he was the first driver past the chequered flag to take a valuable 25 points. His best lap of the race was in 1:22.620(135,338km/h), the third quickest time of the 19 runners taking the green light. "I am very pleased as I had a great car in this race," said Andersson at the finish. Chasing him all the way to the line was Dahlgren, just 1.947 seconds back at the chequered flag. Race 2 was much less promising as Andersson started off from eighth place thanks to the reverse grid system but he was out after just three laps.
The 25 points earned for his win at the weekend win however, coupled to 12- and 15-point scores for a fourth and third place finish in the previous two races, saw Andersson closing in, and on Sunday, edging out, Björk to claim fourth place in the championship with 181 points, just two better than his rival who collected 15 points less than the Alfa Romeo driver at Mantorp Park. The overall title went to Göransson (251 points) who was just two points to the better of runner-up Dahlgren (249 points) while third place in the final standings was claimed by Ekblom (230 points). In the team's championship, Andersson's MA:GP outfit was fourth with 252 points but only two points behind Flash Engineering (254 points) while the teams' title went to Polestar Racing (395 points). Fifth placed WestCoast Racing also scored 252 points but MA:GP edged them out on a tie-break.